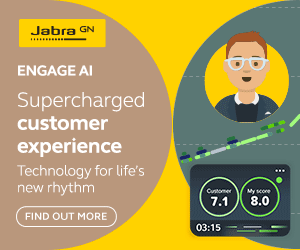 Following the heavy snow in the USA, we asked our experts how you can prevent your contact centre freezing to a halt if the bad weather moves east.
Overflow simple customer interactions to other company employees
You might not have a full complement of contact centre staff available, but there are always other staff available across the organisation – whether that's in your branch operations, retail stores or the back-office.
Providing all staff with access to an agent desktop means that you can use your multi-channel ACD to route complex transactions to available contact centre staff, while simpler transactions – such as meter readings, status updates or basic orders – can be handled by staff from other parts of the business.
Provide updates on Twitter and Facebook
Do not underestimate the power of social media as a communication channel.
This lets you provide instant updates on service availability and can play a key role in deflecting inbound demand spikes. Outbound email may also be applicable, depending on the service you're providing.
With thanks to Susannah Richardson, Marketing Director at mplsystems
Get your agents onto public transport
Advise staff around weather forecasts. Public transport actually suffers less than we think due to the weather so get people onto public transport if there is a forecast of snow (particularly around London).
With thanks to Richard Beard, Client Manager at Bright UK
Acquire an emergency telephone number
Think about acquiring a 'telephone number' to be used only in emergencies. This would typically be a non-geographic 0300 or 0843 number and can be used and advertised on your website and social channels if your telephony or switch goes down or if staff can't get to the office but still need to handle inbound or outbound calls.
Once the number has been acquired, use a self-management portal to create an emergency routing plan. Add landline/mobile numbers of agents to the plan, then in emergency situations calls can be re-routed to those teams. This will ensure your agents can still receive calls regardless of their geographic location.
If you need more intelligent routing and handling of calls, ensure your emergency number can operate with a front-end hosted IVR which enables you to match caller need to the appropriate agents with the right skills.
With thanks to Tracy McAvoy at Business Systems
Learn from previous snow days
We should all have a basic understanding of how different weather conditions impact our workloads, at least in respect of increase or decrease in demand. In addition, we should all have data from 2 and 3 years ago when severe snow and icy conditions hit.
Learning from these recent events helps us to understand how volatile our workload can be and how much short-term flexibility we need, e.g. how much overtime is required, if home working is an option, if can staff be on stand-by and on-call, etc.
Take transport disruption into consideration
It is important to consider the impact to our colleagues and how their travel plans can be affected. Again, look back to recent years and analyse adherence, sickness and any other absence.
Making minor changes in advance, e.g. taking into consideration public transport disruption, can prevent poor on-the-day adherence or even prevent absence.
With thanks to Phil Anderson, Contact Centre Specialist at Professional Planning Forum
Use a teleconference to brief your team on the emergency plan
A telephony system with conferencing features is the ideal way to connect.
With simple online organisation from an intuitive portal and instant notification to all participants, you can set up an ad hoc conference in seconds, so you can make decisions in minutes.
With thanks to Chris Key at Hostcomm
Arm employees with tools that allow them to work remotely
Whether contact centre workers wake up to heavy snow or train stoppages, or even if they just have to stay in waiting for the plumber, there is no reason for them not to remain productive if they have the technologies they need to work remotely.
Flexible working tools, including wireless headsets, broadband, laptops, and unified communications-enabled devices, allow employees to enjoy virtually all the functionality they have at work, in the comfort of their homes. Not only does this minimise losses for employers, it also ensure that callers can continue to have their issues addressed regardless of the weather.
With thanks to Richard Kenny, EMEA Marketing Manager at Plantronics
Host a practice day
Decide on a suitable week in winter, before extreme weather warnings. Agree practice days by teams, and set remote log-in challenges to ensure agents and supervisors check from their remote location that all systems are performing to your expected IT and SLA standards.
Review the results and provide feedback to everyone, supporting them to deliver the service your customers expect. Overcoming small avoidable issues will ensure that you can seamlessly deliver customer satisfaction no matter what the weather.
Pre-record a generic bad-weather announcement
Prepare typical announcements in advance so that they can be approved by management. Then ensure your supervisors can add the emergency announcement in front of the queue – without having to be in the building!
Where possible, calmly pre-record a generic bad-weather announcement, e.g. "Due to the extreme weather conditions…" and activate it as needed.
Get your agents to take their laptops home every day
Equip agents with the essential items needed to work remotely, such as laptops and mobile devices.
When bad weather is on the horizon, get your agents to take these items home with them every day.
With thanks to Tony Norman, Solutions Architect at Netcall
Manage peak volumes using a WFM solution
Manage peak volumes using dynamic workload distribution and workforce management solutions.
These enable contact centres to easily manage the day's events by being able to respond quickly to new conditions by scheduling, forecasting, and tracking customer communication in order to get the most from the available labour pool – and this can also apply across the back office or branch office.
Work is therefore evenly balanced across the enterprise, leveraging all available resources to ensure and enhance customer engagement.
With thanks to Lucille Needham, Senior Marketing Manager at Genesys
Make sure your agents can work off-premise if necessary
Using a cloud contact centre solution enables call centre workers to receive and make calls to customers from anywhere. Managers can still run the call centre as they would at a single location, knowing the system is secure and knowing calls will be routed to the correct person, wherever they are.
With an on-premise solution managers would often need a disaster recovery plan and back-up office. You don't need this with a cloud solution as you can continue working regardless of the weather.
With thanks to David Ford, Managing Director at Magnetic North
Get more from the agents you have using a predictive dialler
The first thing you should do in the event of snow is make sure you're doing the most you can with fewer agents.
A predictive dialler provides rich automation for common call centre tasks, from connecting calls to follow-up. That means your agents get more talk time every hour, so more calls can be made by fewer people. It's a way to use your manpower at its most efficient.
Use Skype to help your agents work remotely in the event of snow
If there is not the time or budget to implement a unified communications system, solutions such as Skype can be an effective way to ensure calls can still be taken and employees are still able to collaborate when unable to be geographically situated together.
All you need to implement this tool in an off-site environment is a laptop or tablet that allows secure remote access to your network so that documents and information can be accessed, a robust broadband connection and a quality headset or speakerphone, so that you can still maintain optimum call clarity.
Set a to-do list for home-based agents to ensure structure and productivity
To support the home-based team so that they still have a structured day, it is a good idea to set a daily or weekly to-do list with them. This helps to keep employees focused and allows a remote manager to monitor performance regularly against the tasks or KPIs set.
Agents can then be rewarded for achieving KPIs so that they do not feel a sense of unproductivity from being in a different working environment. It also gives managers a reason to touch base with their team so as to relieve any alienation personnel might feel from being isolated in their home location.
With thanks to Amanda Bowbanks from Jabra
Make sure that your incident management plans are up to date
To properly prepare for bad weather, you should make sure that your 'disaster recovery' and 'incident management' plans are up to date, and rehearse them.
You should also check your IT systems and infrastructure and suspend non-urgent upgrades if the forecast looks worrying. In addition, you should make sure that you have a back-up power supply ready just in case.
Use your WFM system to understand worst-case-scenario forecasts
Use your workforce management tools to build some worst-case-scenario forecasts and make sure you have all the plans in place to ensure best-case-scenario outcomes.
With thanks to David McGovern, Elite Customer Relationship Director at Aspect Software

Plan for staff to work from home
Unplanned events such as extreme weather can have a serious impact on your business operations, particularly as snow can make getting to work difficult or impossible. Make sure you've thought about business continuity planning to ensure your call centre can run smoothly in all eventualities.
The best solution is to plan for staff to work from home. As well as maintaining a seamless operation, it will ensure agents' safety, while helping them to work around other events, such as children being home due to school closures.
With thanks to Jonathan Gale at NewVoiceMedia
Make sure that your support staff are cross-trained
Support staff should be cross-trained and ready to help out wherever necessary in order to plug gaps.
Remember to check the weather forecast
Check the forecast. Simple really, but the most obvious advice is sometimes the best.
Don't be taken unawares because you forgot to watch the weather. With smartphone access to weather apps, there's really no excuse.
Provide transport for your staff
Provide transport for your staff – think about using minibuses or create car pool rotas for staff. Be creative.
If your staff are likely to experience problems getting to the office, make sure they know what is expected of them before the bad weather hits, i.e. notifying their line manager as early as possible if they can't make it or are likely to be delayed.
With thanks to Simon Sharman, Technical Director at Nexbridge
Ensure your contact centre can cope with increased call volumes
If call volumes are likely to rocket because of bad weather, ensure your system is geared up to deal with queues and keep customers informed.
For example, you could provide options for callers on an inbound queue to hang up but "maintain" their position. That way customers feel looked after rather than frustrated.
You could also provide a system which asks callers to leave their details, so that they can receive a call-back at a later time.
Create an adaptable workforce
In the office, if your staff levels are affected by adverse conditions, ensure you have looked into blending agents to cover the gaps. As well as switching agents between inbound and outbound telephone calls, blending can work just as well as multi-channel, as long as the agent is trained and confident.
Encourage customers to use channels other than the telephone
If your contact centre is equipped to deal with multichannel communications, consider encouraging customers to use channels other than the telephone, such as email or social media to contact you, as this should help to reduce call volumes. You could also try flagging up your website as a source of useful information.
With thanks to Ken Reid at Rostrvm Solutions
Manage AHT by reducing or eliminating up-sell tactics
If there is a problem in handling volume, consider managing AHT by reducing or eliminating up-sell tactics (slimming down the script) until the situation stabilises.  This could also apply to the filling out of customer feedback surveys.
Make good use of partners outside of the worst-affected areas
Do you have other contact centres or outsourced partners outside of the worst-affected areas that can take on additional activity? Working together to have a plan in place will make the transition easier for you and will minimise disruption to customers.
If this is not an option, consider making arrangements with a local hotel (preferably with a shuttle service) to allow key employees to stay in a safe place nearby.
Provide incentives for employees who do make it in
Consider providing incentives for employees who do make it in for their shift (free lunch, no penalty for being late, gift card etc.).
Also, take advantage of agent empowerment tools within your WFM system to help book overtime, swap shifts and manage their hours. For example, parents dealing with school closures will welcome the opportunity to swap their shift with someone without such commitments.
With thanks to Scott Buchanan at NICE Systems
Could your contact centre cope with a snow day?
Let us know if and how you've prepared in an email to Call Centre Helper