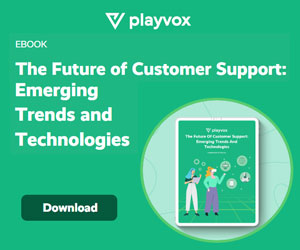 As part of our contact centre research we asked our audience 'What Is Your Mix of Contact Channels?' to find out how multichannel contact centres are developing their options for customer communication.
We present the latest findings on the popularity of contact centre communication channels taken from our survey report "What Contact Centres Are Doing Right Now 2021 Edition":
Voice (Inbound) – 54.9%
Voice (Outbound) – 13.6%
Email – 17.3%
Live Chat – 6.9%
Social Media – 2.3%
Letters – 1.1%
SMS – 1.3%
Video Chat – 0.3%
Other – 2.3%
Compared to results from previous years, the use of channels is changing. However, voice remains a core channel for customer communication.
Looking at the distribution over time, there are two interesting changes that are worth noting for future channel development.
Live Chat Continues to Prosper
The percentage of contact centre conversations that take place over live chat reached record levels this year, making up 6.9% of total interactions.
That 6.9% is greatly up on the 3.0% recorded in 2016. This highlights that more than twice as many customers are going through the channel to get their queries answered than five years ago.
Another channel that's enjoying an upsurge in usage is outbound voice, growing by 6.25% in the past year alone. This perhaps indicates that sales teams sense an opportunity, with many physical stores being closed throughout the pandemic.
Email Starts to Lose Steam
From 2014 to 2020, email became an increasingly popular channel. By last year, 18.6% of contact centre interactions took place via this medium.
As the growth of contemporary digital channels – such as social media, messaging and video – stuttered, more and more customers turned to email to resolve their queries.
Yet this year, email fell in usage by 7%, breaking the trend. This indicates that contact centres may now be getting to grips with the other channels that sit within their digital mix.
Latest Survey Report
These findings come from the survey report "What Contact Centres Are Doing Right Now 2021 Edition", featuring over 40 insights into contact centre operations. Download the latest survey report to get more great insights.
The results of the survey were collected in July and August 2021, and we are delighted to publish this report in partnership with Akixi, NICE, Nuance, Odigo, Poly and ProcedureFlow.
Source: Call Centre Helper Survey: What Contact Centres Are Doing Right Now (2021 Edition) Sample size – 224 Date: August 2021