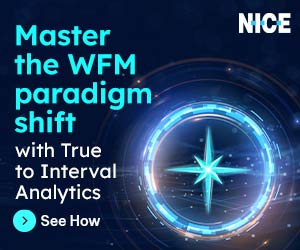 Our readers provide their advice on how to maximise your multi-channel contact centre.
Limit the number of simultaneous web chats to protect quality
While the number of chats an agent can handle does vary between individuals, we've set a limit of 4 simultaneous chats at any one time.
This protects quality and attention to detail.
With thanks to Alex
Auto-forward tweets to email
Auto-forward Twitter comments to email as part of an integrated system, to ensure that you never miss a tweet (good or bad) from your customers.
With thanks to Denise
Provide your agents with a range of channels to keep them engaged
Providing your agents with a range of channels and a selection of different content types helps keep them engaged.
Even the best of agents will get fed-up if they're stuck with eight hours of change-of-address requests!
Information needs to be worked – not just processed
Information that's flowing into the contact centre needs to be worked – not just processed.
Look for trends, pick up feedback from sales activities and make sure you share anything that needs immediate action – for example, you might have a particular courier that's not performing and dispatch will need to know.
It's important to have access to this level of detail at the desktop if you're to keep up with today's more demanding social customers.
With thanks to Susannah Richardson, Marketing Director, mplsystems
Establish a consistent tone of voice for all of your channels
You need to establish a consistent tone of voice for all of your channels.
Without this you'll have a tough job defining the quality of interaction and maintaining your brand standards.
With thanks to Colin
Think in minutes, not hours
Adding new channels will require you to take a hard look at Service Level Agreements (SLAs) for each channel.
You need to consider what is acceptable to your customers and take that as your goal. Don't think in hours! Instead, work out how you could set SLAs in minutes for non-voice channels.
Give everyone the opportunity to add new strings to their bow
Those agents that you hired because of their telephone manner may not be the best agents for handling email or chat.
That being said, you should try to give everyone the opportunity to add new strings to their bow, as this provides resource flexibility at peak times.
Don't assume that the call volumes will drop
Just because you add new non-voice channels, don't assume that the call volumes will drop.
It may be that you have to over-resource initially until all the new marketing initiatives associated with the new channels take hold.
Rethink the KPIs of your multi-channel agents
You should rethink the Key Performance Indicators (KPIs) of your multi-channel agents, with a focus on "interaction quality" rather than handling times.
This is because the traditional Red Amber Green (RAG) status for the calls in queue can actually put pressure on agents to wrap quickly, and therefore damage the quality of their interaction.
With thanks to Richard Pinnington at LiveOps
Support agents to develop a flexible style
Support agents to develop a flexible style so that they can adapt their approach according to individual customer needs.
To achieve this, you should consider providing agent training in stages so that they can easily adopt and practise new skills. You could also harness the value from mentorship between skilled and junior agents.
Rework your planning processes
Predicting the volume and different skill-set requirements in channels outside of voice may require a rework of your planning processes.
Consider an overall workforce optimisation strategy, using a 'bottom up' approach by analysing tasks and customer use patterns. This will allow you to plan staffing levels around these needs, and recruit or train agents where you see best fit.
Provide systems that unify customer service across the organisation
Research confirms that organisations are challenged by silo-based delivery of customer service, which can result in internal frustration, and annoy or exasperate customers.
Increase agent and back-office productivity by providing collaboration tools with an intuitive single-view interface, or dashboard, to manage times of peak contact. This should significantly improve customer satisfaction and provide potential cost savings.
With thanks to Tony Norman, Solutions Architect at Netcall
Understand the demand and get the staffing right
Multi-channel contact centres require an accurate method of forecasting and scheduling resource.
Your WFM application should be able to forecast the requirements for each contact type across the day and also provide proactive real-time management to cope with unexpected demand.
By capturing the volumes and handling times and building a set of historical profiles, you can improve the accuracy of forecasts across different contact types.
Make sure employees have access to tools for delivering the service
Consistency of service is critical for the multi-channel experience, and this can only be achieved if the employees have access to knowledge and tools for delivering the service.
Real-time process guidance can be used to assist and prompt employees, and other technologies (such as interaction analytics) can provide meaningful insight to the business to ensure processes are efficient and agents are fully supported.
With thanks to David Evans, Workforce Optimisation Consultant, Business Systems (UK) Ltd
Get your team involved to help with buy-in
To help with buy-in when switching to multi-channel, ask your agents to help with the move and get them involved in finding solutions.
This helps them to take ownership of the project and see the benefits of being able to offer different channels to the customer.
With thanks to Andrew
Use a WFM application which schedules properly for each channel
Ensure that you use a Workforce Management (WFM) application which forecasts and schedules properly for each different channel, as some non-call traffic abandons in the same way as calls but cannot be treated similarly to calls.
Also bear in mind that a proficient agent will be able to handle multiple chats simultaneously, and this should be taken into account when calculating required staffing.
Track agent activities even when they are performing non-call work
Implement the means to track agent activities even when they are performing non-call work.
If you can't measure it you can't manage it, so in order to track agent adherence to schedule, you need to have visibility of their activities regardless of the contact channel.
With thanks to Chris Dealy, Sales Director at injixo
Get agents involved who use social media in their personal lives
When branching into social media channels, ask advisors who already use social media extensively in their personal lives to get involved first, as they have the necessary experience.
With thanks to Tara
Make sure all your services are connected
The challenge of managing multiple channels of communication is getting the single view of the customer, so that contact can be tracked across channels.
Customers expect to be able to call, then live chat, then email, and maybe tweet you, without having to explain their issue from scratch each time. This is possible with a connected cloud service and CRM integration.
Ensure your agents can manage communications on the new channels
You have to ensure that your agents are trained to manage communications on the new channels. Then you can be sure that the agents with the right skills are managing the channels they are best suited to.
Using the right system should also enable a company to create business rules that then route enquiries to the right team and best available agent to increase productivity and response times.
There is, of course, no point in having multi-channels to communicate with, if customers are left waiting for responses.
With thanks to David Ford, Managing Director at Magnetic North
Post hyperlinks into web chat to route customers to self-help pages
When interacting with customers via social media and web chat, post hyperlinks in with your responses to direct your customers through to any relevant FAQ pages.
This will encourage your customers to self-serve and should reduce your Average Handling Time too.
With thanks to Jason
Take advice from industry experts
The key is to take advice from industry experts as to which solutions really provide everything that is needed.
Ensuring that channels are actually seamless for advisors, thus avoiding the need to chop and- hange, will prevent the cherry-picking of particular tasks and in return maximise productivity.
Tailor your responses to the individual
Most channels require advisors to provide written responses, with each needing a different approach.
The key to social media is both tailoring your responses to the individual, to ensure that conversations don't just continue indefinitely, and also using the medium to proactively contact customers.
Provide a consistent experience across all customer touch points
Omnichannel isn't simply about facilitating seamless transitions between channels, but providing a consistent experience across all customer touch points with you.
What your customers can do via one, they should be able to do by them all. This notion is the whole approach to providing a good end-to-end customer experience.
With thanks to Dave Ogden, Account Executive, Aspect Software
Always respond to negative social media comments
Always respond to negative social media comments. It's crucial to your business, as it gives you the opportunity to help that customer, gently correct the customer publicly if they are wrong in their comment and amaze them that you responded (since over 50% don't expect you to).
It's the opportunity to turn the wolves into lambs and many times they become your biggest proponents!
With thanks to one of Call Centre Helper's readers
Understand the 'flow' between channels
The best multi-channel experiences are those that connect the dots between the channels for the customer. Therefore your business must understand the 'flow' (how customers move) between the channels.
To help do this you need to answer four key questions:
What is each channel there to do and is it performing?
At what stage in the customer journey are specific channels best deployed?
Is every channel you offer meeting customer expectations?
Are your channels tightly integrated and optimised to deliver the omni-channel customer experience?
With thanks to Craig Pumfrey, NICE Systems
Master the basics first
We should all ensure that our customer service/sales departments are able to deal with every query, no matter what format it arrives in.
But the advisors should master the basics first, i.e. telephone and written skills should come before the social media aspect. Only when the basics have been mastered, should advisors then branch into Twitter, Facebook or online chat.
With thanks to Lawrence
Integrate identifiers for a personalised web chat service
If some sort of identifier can be integrated into the web chat, then the agent handling the chat will already know who the customer is when their chat appears.
This can encourage rapport building and make the experience a bit more personal.
With thanks to Alex
Have guidelines in place on the use of "text speak"
It's really important to have guidelines on the use of "text speak" in place before you move into social media.
Customers may do it, but it's just not right for a business to do it.
With thanks to Tara
Remember voice and text responses require two different skill sets
Remember that voice and text responses require two different skill sets, and that it can be difficult for agents to flick between the two disciplines.
If agents with amazing written skills are asked to perform on the telephone, they may struggle and morale can drop as a direct result. The same is true for our amazing voice agents being asked to write email.
Be prepared to invest in thorough training if you want all of your agents to be multi-skilled.
With thanks to Colin
Remember that customers just want to receive a service
Although branching into social media channels is an exciting journey for the business, it is important that you don't get too drawn in to the social world, and remember that customers just want to receive a service.
With thanks to Phil
Use social media to provide helpful information
Don't use social media only to push products. Also use it to provide helpful information and as a means to attract customers to read your messages.
For example, if you're a cement supplier, give articles about creating a concrete bench/how-to guides to use the product. That way your customers should regularly come back to learn new things.
With thanks to Kerry
Provide touch-typing training
For the agents that do need to reply through the keyboard, it's well worth providing touch-typing training.
It will make a significant difference to the speed with which they can handle a customer query.
With thanks to David
What do you do to ensure that your multi-channel operation runs smoothly?