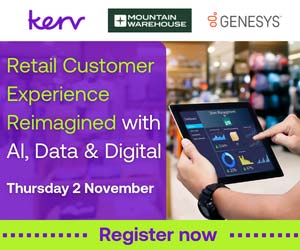 Can one customer satisfaction question revolutionise your business and predict its future growth?
That is the question that organisations across the globe and across most industry verticals are asking themselves. George Todd tells us more.
Many believe that the answer is a resounding "Yes" and industry leaders and global brands such as Apple, American Express, General Electric, and Virgin Media are incorporating customer satisfaction strategies into their business to ensure that they continue to keep this in focus.
What is the question really about and why has its use as a customer sat metric become the 'must have' for many leading organisations?
Because it goes to the heart of what a customer is feeling about their contact with a company and puts their own reputations on the line.  Simply put, the question is …
"How likely is it that you would recommend our company to a friend or colleague?"
And rate this recommendation on a scale of  of 0-10.
So why is this question so topical?  Because it is part and parcel of a customer satisfaction approach and methodology called Net Promoter Score (NPS).
So what is Net Promoter Score?
NPS is a customer satisfaction metric originally put forward by Frederick F. Reichheld of Bain & Company in his 2003 article for the Harvard Business Review, 'The One Number You Need to Grow" and then expanded on in his 2006 book, The Ultimate Question.
The concept is simple – responses to the 'likely to recommend' question are divided into three groups:
Promoters (rating of 9-10)
Passives (7-8)
Detractors (0-6)
The percentage of detractor responses is then subtracted from the percentage of promoters to give a Net Promoter Score.
The question itself is either asked in isolation or as part of a larger (but always short) customer satisfaction survey.  It is normally asked via email, online or a telephone survey. Its benefit is simplicity and ease of understanding, not just for the customer, but also for an organisation's employees. They only need one number to measure success in their customer service delivery. The main 'promoter' question is usually followed up by one or two more, looking for the reasons behind the 'likeliness to recommend'.
Reichheld's claim is that it is the only customer sat metric you need and it is a reliable predictor of future growth. In his original research, 11 out of 14 companies he studied, across 6 different industries, showed a strong link between their NPS score and growth. However, this is where the controversy and debate starts.
Is it really the only number you need?
Whilst Reichheld and his proponents say "yes", many experts and leaders in the market research and academic fields disagree. A number of papers and pieces of research conducted since Reichheld's original article have cast doubt on the link between NPS and future growth. They state that NPS is no better a predictor of future growth and that  it actually performs poorly in relation to other common customer sat measures. In addition they have suggested that NPS is a predictor of current attitudes only (how do I feel about this company and its service), not of future behaviour (likelihood of recommending them to my family, friends and colleagues).
However, the widespread and constantly growing usage and passionate advocacy of Net Promoter Score by many organisations suggests that adoption of NPS can have a positive impact on your business.
NPS – Why is it a magic number for contact centres?
The foundation of the success of NPS is simple… it is simple. The ability to gauge a customer's satisfaction and loyalty by asking one question means it can be used more extensively than more detailed customer sat metrics. In fact, it can be used after every interaction a customer has with your company.
The Australian ISP, iinet sends their customers an 'NPS Survey' via email after every call or email that a customer makes to their company. Since the customer is normally online when dealing with their ISP, this means responses to the email survey have a high rate of response which is generally very unusual in any surveys.
The organisation gets a 'real time' picture of both the quality of service and the 'happiness' of their customers.
Whilst there may be doubt about the ability of NPS to predict future growth, there is little doubt in its ability to measure current customer satisfaction.
NPS as a quality measure for our contact centres
NPS advocates see NPS as the only quality measure required. If the customer is happy then it can be almost assumed that the interaction was of a high enough quality. This is strengthened by the use of two supplementary and supporting questions in the NPS survey:
"How happy are you with the customer service representative you spoke to?"
"How happy are you with the outcome of your call/interaction?"
As a result, it is simple to see whether the service offered to the customer was good enough, both from an agent and from an organisational perspective.
As an outsourcer, NPS allows us to easily track the quality of our service and for our clients to be able to gauge our service delivery in comparison with their other sites.
For one customer, our Cape Town operation is currently achieving a 40% NPS score.  We can see that our clients' customers like speaking to us and dealing with us. Our client doesn't need to guess if off-shoring has been a good idea, they can see proof every day in the NPS score and surveys.
Using NPS to revolutionise your service delivery
From the CEO down, the business needs to be focused on doing whatever it needs to make your customers happy.
Since, statistically, only the top 18% of the NPS rating is counted as positive, and we know that dissatisfied customers are significantly more likely to respond to customer satisfaction surveys, we need to exceed our customers' expectations the majority of the time to get a positive NPS score.
Not just satisfy them, but WOW them!
---
George Todd is General Manager – Performance Development at Merchants