Here we set out how to define a policy on what an abusive customer looks like and how the contact centre can guard itself against them.
Abusive Customers Should Never Be Mistaken for Angry Customers
Experienced advisors should know how to handle calls from angry customers, giving them time to let them vent at the company's processes and operations. But if the anger is directed at the advisor and personal abuse is used, the situation becomes much more difficult.
As Dave Salisbury, an Operations and Customer Relations Specialist, says: "An angry customer should never be mistaken for an abusive customer. Clear guidelines need to be communicated to advisors regarding this distinction.
"Each and every business should make clear what is acceptable for angry customers and what abusive customers look like, and provide training to deal with both."
It's all about how the customer's abuse is directed. An angry customer who says something along the lines of: "I'm getting frustrated, this keeps happening", is very different from an abusive customer who starts to call the advisor names.
The key difference here is how the language, e.g. swearing, is directed. If it is aimed at the company it can be considered angry, but if it is levelled against the advisor it can be considered as abusive.
For example, if a customer were to say: "It's not bloody good enough", they can be considered to be angry. However, if they were to say: "You're not bloody listening to me", the customer would be abusive.
So, clear guidelines need to be in place so that advisors can distinguish between an angry and an abusive caller. These guidelines could be similar to those shown below:
All staff have the right not to be subjected to any behaviour/abuse that includes:
Threats of physical harm or violence
Inappropriate religious, cultural or racial insults
Homophobic, sexist or other derogatory remarks
Once it has been made clear what an abusive customer "looks like", with advisors and managers sharing the same definition, the contact centre can then decide on how they should ideally be dealt with.
To make this distinction clear, it could be beneficial to include calibration sessions in induction training, to ensure advisors fully understand the definition of an abusive customer set out by management.
It could be beneficial to include calibration sessions in induction training, to ensure advisors fully understand the definition of an abusive customer
These calibration sessions should include listening to recordings of calls that managers would consider angry or abusive.
So, now advisors and management know the distinction between anger and abuse in the contact centre, how can these customers be dealt with?
For a step-by-step flow diagram of our suggested policy, click here For an editable version of the flow diagram of our suggested policy, click here.
The Three-Strike Rule
It is a common contact centre practice to warn a customer of their behaviour twice and if the customer continues being abusive to terminate the call.
Traditionally, the two warnings should include a simple request asking the customer to stop being abusive, so that the customer and advisor can work together to find a solution. This is then followed by a warning of call termination. For example:
"Let's stop calling each other names and work together, Mr. X, to find a resolution. I do not want to have to put the phone down on you."
Hopefully, these two warnings should help to settle the situation down. However, in many cases, the abuse will keep coming. So, at that point it is time for the advisor to hang up the phone.
Yet, as Graham Jones, an Operations Manager at Liberata, says: "Never just terminate the call! If the abuse persists, the advisor should advise the caller why they are now terminating the call, while giving the customer their name and that of the line manager. Then, the advisor should make a note of the call details, so that the line manager can listen back to the call recording."
This can protect the advisor from any accusations of impatience from the customer, who is likely to call back again, even more frustrated, as the advisor can give proof to management of what they had to deal with.
Also, passing through the call details to the line manager is a good idea, as they could then oversee the follow-up call, which is the next step in handling a call from an abusive customer.
Take a read of our article, When Is It OK to Hang up on a Customer?
Manager/Specialist Listens to the Call
Once the advisor has terminated the call and its details have been passed through to the manager, the advisor should be given the time to unhook if the abuse has had an impact on their emotional state.
Give the advisor 10 or 15 minutes to take themselves away from the pressures of the contact centre floor to listen to a couple of songs, watch a YouTube video or to just reduce their stress with some deep breathing.
While the advisor does so, the manager/specialist should listen to the call and hear the abuse for themselves, to ensure that the advisor followed the correct protocol. This will help to assure management that the call was indeed abusive, and that the advisor did not just report it to gain a 10–15-minute break.
It will also help management to prepare for the next stage of dealing with this customer, the follow-up call.
The Follow-Up Call
Simply ignoring an incident with a customer can be unfair to the advisor who was subjected to the abuse.
However, refusing to do business with customers is an unconvincing strategy that can hinder the reputation of the brand.
So, Sonya, one of our readers, says that once the call has reached the point where an advisor has had to hang-up, "another senior advisor with great objection handling skills should contact the customer back. This should be later that day or on the following day, once the customer has calmed down."
When we visited Vax's contact centre in Droitwich, we found out that their Contact Centre Manager phones customers back herself, to gently reaffirm the Equality Act and what is considered acceptable.
By doing this the next day, once the red mist has settled, Vax are able to offer the customer the chance to apologise and this helps repair any damage to their relationship with the customer. According to Vax, this is often the case as the abuse may have been misdirected from troubles unrelated to the contact centre.
Dave Salisbury is a supporter of the follow up-call for the occasional abuser, and says that it is great for re-establishing a relationship with an "estranged" customer after the advisor has hung up on them.
Until the customer is included in the conversation about 'abusive behaviour', everyone will continue to lose!

Dave Salisbury
In fact, Dave says: "Too many times the customer is not included in the conversation, even when the issue is correctable. This can lead to customer loss, reputation loss, and potential money loss.
"Until the customer is included in the conversation about 'abusive behaviour', everyone will continue to lose!"
By following up with an unreasonable customer, the contact centre may also gain insight into any outside influences that are influencing their behaviour, like mental illness, for example.
When a contact centre gains these pieces of information, it is great to log it in the CRM system, to help future advisors to show empathy during future interactions.
Dealing With Repeat Offenders
Despite follow-up calls, there will be those customers that phone up repeatedly and continue to abuse the contact centre team.
So it could be useful to have a policy for how to deal with repeat offenders, to protect advisors and save the contact centre time from having to repeatedly analyse every case.
The abusive customer policy could look something like this:
First-Time Offender – Receives a call-back from the Contact Centre Manager the following day

Second-Time Offender – Route calls through to a specialised advisor

Third-Time Offender – Request that the customer only communicates via email

Fourth-Time Offender – Asked to refrain from being a customer ever again and hand the matter over to the legal team. 
Routing Calls to a Specialised Advisor
For second-time offenders who have received a follow-up call but go on to abuse a second advisor, it is time to change strategy and protect the general contact centre floor.
As James Pike, another one of our readers, says: "These days repeat callers' numbers can be identified and routed to a specific agent to manage the caller and avoid further upset."
The advisor who then has to deal with the abusive customer should have experience and extra training in handling upsetting calls.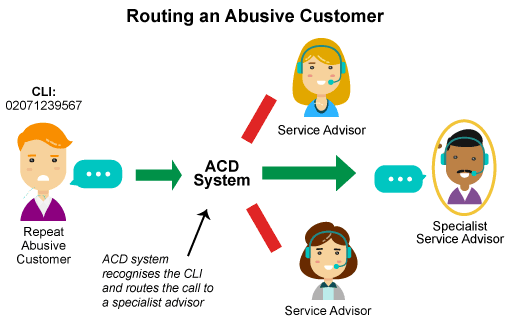 Hopefully, this expertise in dealing with difficult customers will help the customer to settle, and the abuse won't come as such a shock to the call handler.
While call routing is a good strategy for customers who have abused a member of the contact centre team, specialised routing is also a good tactic to handle nuisance callers.
These nuisance callers, who may decide to phone in as a prank or behave in an untoward manner to an advisor, could be routed into an extra long queue. This would mean that if they choose to prank again, they could be waiting on the line for an extortionate amount of time, maybe even an hour.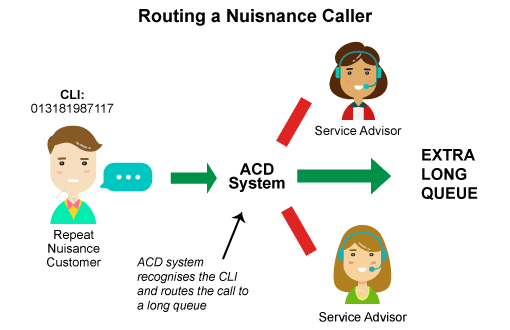 Follow the link to find our: The Top 10 Call Routing Strategies
Request Future Communication Is Handled Via Email
If a specialist advisor can't settle a customer down, nothing will, so it can be worth interacting with the customer via a less "emotionally driven" channel.
At this point, Sebastian Swire, a Customer Support Manager at TouchNote, advises: "Following up with the customer by saying that in order to ensure the best possible customer service we'd prefer to keep communication via email in future."
Of course, the customer may continue to send abuse via email, but it will be less distressing to have to hear it in this way, as opposed to being addressed personally with an abusive tone.
Dropping the Customer
Once a follow-up call has been made, the customer's number has been routed and an alternative method of communication has been offered, the company is left with little alternative than to drop the customer.
At this stage, Andy, one of our readers, asks, "Is it worth keeping them as a customer? They will never be happy and will be constantly complaining, escalating their queries to managers or supervisors no matter what you do or say."
"You will set a trend, and if advisors continuously have to take the abuse, they are opening themselves up to having to deal with it all the time, as the customer will begin expect it. Sometimes it is better to nip it in the bud."
Agreeing, Dave Salisbury suggests that there comes a point where customers "should be invited to refrain from being a customer ever again and turned over to legal."
Legal action may also be required at any call from a customer, whether it's their first or their fourth, if the customer uses racist, sexist or homophobic language which contravenes the Equality Act. In these cases, it is good practice to talk to the advisor who objected to the abuse and ask them if they would like to take legal action.
Handling Abusive Customers on Email and Live Chat
While the policy example can be a good method to deal with abusive customers over the phone, abusers can also hassle advisors via written channels such as email and live chat.
Kelly, one of our readers, recently had to deal with an abusive customer over email, stating: "I had a situation where a customer continued to send abusive emails back to my team, when they were doing their utmost to help the customer. This included swearing, saying they should be sacked and telling the advisor that they were terrible at their jobs."
"I tried calling the customer to help defuse it through a conversation, but they refused to speak with me via the phone."
So, in this case, the customer wants to stick to their channel preference and is perhaps embarrassed by their behaviour and wants to hide behind a channel with greater obscurity.
Abusive customers should be given more leeway on written channels as it is hard to sense tone

Dominic Kent
In these situations, the contact centre could route future email/live chat contacts with the customer to a specialist advisor on the email channel. In addition, an auto-filter could be set up to take screenshots of any abuse, which can then be archived.
However,  customers should be given more leeway on written channels as it is hard to sense tone, according to Dominic Kent, a Product Marketing Manager.
Dominic says that he has "witnessed on many occasions that with use of negative terms and swearing that companies have lost business through their reaction to emotion."
"Sometimes a customer will be surprised at a price or will be annoyed with service and this triggers human responses which might include a swear. If the word is not directed at an individual or abusive but is purely a reaction, then advisors need to be trained to deal with this."
Conclusion
To create a policy for handling abusive customers, it is first important to define what is considered abusive and to make sure that management and advisors agree on this.
A traditional next step is to then implement a "three-strike" rule, giving the customer a chance to stay on the line and resolve their query.
Once the interaction has passed this point and the advisor has little option other than to hang up, the Contact Centre Manager should follow up with the customer the next day, after they have calmed down.
However, for serial abusers, a more formal policy should be introduced, to keep the customer's business but protect the team from needless abuse.
Do you agree with our advice for handling abusive customers?
Please share your thoughts in an email to Call Centre Helper.