When it comes to calming angry or irate customers, a skilful use of language by your agents could be very important.
Here, we present our analysis of the four main irate customer personality types and our list of suggested phrases for tackling these most difficult of characters.
In addition, we also supply a list of words we recommend using and helpful advice from our readers for how to deal with angry customers.
The Offloader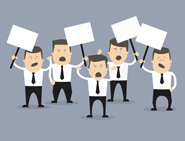 More often than not, this type of caller will have no legitimate grievance against your enterprise. Rather, he or she will have suffered a recent personal strain and, without anybody else to vent to, will turn to taking their grievance out on your staff. This frequently involves amplifying the most minor of complaints right out of proportion.
This type of caller is among the most frustrating for a contact centre agent; he or she will likely have encountered legitimately furious customers in the past and may feel that to "mollycoddle" their Offloader is a waste of time and energy. Even so, the caller should be taken as seriously as possible, and formally empathetic language should be used at all times.
The following is a list of phrases best suited to dealing with this type of angry customer; note that the words of particular importance have been highlighted – for best results, these should be repeated at various points throughout the conversation.
What to say when dealing with "The Offloader:
"I'm so sorry that you feel this way, Mrs Brown…"
"As a solution,.."
"May I suggest that…?"
"What I'll do right now is…"
"We really do appreciate this feedback, Mrs Brown…"
"May I arrange for an update call, at a time most convenient for you?"
The Legitimate Grievance
Mistakes happen; it's a fact of life, and it's forgiveable. But, from time to time, corporations miss their service level agreements by such a margin that even the most experienced of inbound agents has difficulty believing the magnitude of the failing.
The Legitimate Grievance is far and away the most important item discussed on this list. You have severely failed your customer and, should the case be publicised on social media, the ramifications for your business could be serious.
Agents who encounter this sort of complainant should, of course, escalate the call to their nearest team leader without delay. But in the interim, it would do no harm to offer some words of empathetic reassurance…
What to say when dealing with "The Legitimate Grievance" customer:
"Thank you so much for letting us know about this, Sir/Madam…"
"I'm so sorry to hear about this, Mrs Brown…"
"I completely understand how you feel, Sir/Madam…"
"Thank you so much for your patience/understanding, Mrs Brown…"
"I will action this for you right away…"
The Abusive Customer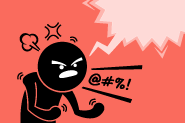 Ah, the Abusive Customer: a fascinating specimen, easily identifiable through its signature high pitch and generous use of profanity.
Paradoxical as it sounds, many agents look forward to receiving calls from this sort of customer. The reason? Well, since corporations' duty of care towards their employees includes protection from client abuse, the rare emergence of the Vulgarian appears to present a good opportunity to terminate the call.
Though no employee should be expected to put up with personal insults, it is industry standard for agents to warn abusive customers at least three times before ending the conversation. Still, there are a series of phrases that can help to restore calm.
Of course, even more important than the language used is the ability of the agent to hold his or her cool under pressure; needless to say, there can be no excuse for insulting a customer – such an act would constitute gross misconduct, even if done in retaliation. So, along with encouraging professional lingo, school your staff in the emotional side of dealing with abusive callers.
What to say when dealing with "The Abusive Customer":
"I truly understand your concern, Sir/Madam, but unfortunately we cannot tolerate the kind of language you are using right now…"
"I'm going to do my very best to help you, Mrs Brown…"
"You seem very upset, Mrs Brown. Would you prefer to continue this conversation through email or post?"
 "I'm sorry you're so upset, Sir/Madam. Would you like for us to call you back when you feel a little calmer?"
"I apologise, Mrs Brown, but if you continue to use this language, I will be forced to end this call."
If you choose to make a policy for dealing with this type of angry customer, check-out the following article: A Policy for Dealing with Angry and Abusive Customers
The Threat-Maker
Easily confused with The Abusive Customer, the Threat-Maker is, in fact, a different kettle of chips altogether. Whilst the former's intention is to insult the call handler into cessation, the latter seeks to obtain appeasement through emotional or even physical intimidation.
Of course, most agents have dealt with enough Threat-Makers to know that, despite their dogged self-conviction, the vast majority of threats levied are as empty as a church on Monday morning. Even so, many telephone staff find this complainant's tactics the most provocative of any irate caller.
It's important again to remind staff not to react to intimidation; to do so would just give the caller further ammunition.
As such, it's important again to remind staff not to react to intimidation; to do so would just give the caller further ammunition, and add weight to a grievance that was, perhaps, spurious.
Sticking to one's guns is the key to success over the Threat-Maker; offering inappropriate compensation will serve only to encourage future complaints. Moreover, it's important to remember that, regardless of how unpleasant he or she might be as a person, each and every one of your customers is an essential source of revenue for your business.
Agents should strive for a golden mean between level-headed formality and empathy for the customer's condition.
What to say when dealing with "The Threat-Maker":
"I do understand the inconvenience you've faced, Sir/Madam…"
"Let me see how I can fix this, Mrs Brown…"
"I recommend that you (insert action here), Sir/Madam, so that I can take further action without delay."
"I am more than happy to help you, Mrs Brown…"
"For the quickest resolution, I would request you to…"
– Thanks to George Dixon
For more types of challenging customers and our advice for dealing with them, read our article: How to Handle Contacts From Challenging Customers
Which Specific Words Should You Use with an Angry Customer?
So, we now know what phrases to use when dealing with the different types of angry customers in the call centre.  But what specific words are central to all of these expressions?
Find out below, and if you remember these words, the right statements to use should start to fall off the tip of your tongue.  You can also learn to build them into your call centre spiels, when thinking about how to handle angry customers.
"I"
There are occasions when you can use "we", like when taking feedback and noting that the company will take it on board, but for the most part, you should always use personal pronouns, especially "I".
This is so the angry customer understands that you are a real person and are invested in them individually. The caller will feel less stranded if you take personal ownership of their problem and taking away this isolation will help to remove frustration.
"Yes"
Customers want to hear what you can do to solve their problem, so it is important to avoid negatives such as "no" and replace them with positive words like "yes".
A good technique to help to achieve this would be to listen to the customer's rant and say "Yes, …" and then repeat what they have said back to them. This helps to confirm to the customer that what they have said was understood, whilst you have added a positive spin to the conversation.
"Definitely"
As highlighted in our article: Top 25 Positive Words, Phrases and Empathy Statements, words like "definitely", as well as "absolutely", "certainly" and so on, can help a difficult interaction.
Why? Because they are affirmatives that take away uncertainty from a conversation, as this kind of language will remove doubt.
"Feedback"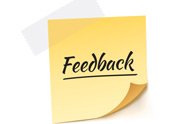 In many cases, an irritated person does not like to be told or it to be insinuated that they are angry, so try to remain positive.
So, when the customer has come to the end of their rant, you can better handle the situation by referring to what they have said as feedback and perhaps mentioning that you will pass it on to the managerial team.
"Understanding"
This is an example of the progressive form of a verb, and others such as "resolving" and "asking" are particularly good when handling an irate customer, as they show that you are actively working to fix an issue.
This removes the insinuations of future-tense forms, like "I'll resolve" and "I'll ask", which don't suggest the immediacy that the angry customer will undoubtedly crave.
"Currently"
Using this word has a similar purpose to using the progressive forms of verbs, as you are informing the customer of your immediate actions, so that they feel as though they are in the loop.
It could then be useful to follow this up by informing the angry customer of your action plan for resolving their query and, if needs be, specify a realistic timeframe in which you will deliver a solution.
"Recommendation / Suggestion"
To avoid telling a customer what they should or could have done, make sure you make recommendations or suggestions to offer advice, in order to avoid patronising them.
You run the risk of angering customers further if you offer them advice in a condescending tone, especially if the problem is on a computer or a technical gadget.
Find more words to turn negative situations with angry customers around in our article: Positive Words to Increase Customer Satisfaction
Reader Suggestions
Here are some additional suggestions sent in by our readers. These involve suggestions of words and phrases to use, as well as other general advice to consider for how to handle angry customers.
Add Empathy
In some instances, it is important to show empathy with what the customer is saying, even agreement.
For example, you could say: "If that happened to me, I would also be annoyed."
But what we need to concentrate on is stating that we are acknowledging that we understand the customer.
Nobody argues if someone agrees with them.
Do we always need to apologise? No!
Why put ourselves on the back foot all of the time?
Customers believe that they expect an apology. Again… very few customers in my experience call up for an apology… they call up to have the issue resolved.
Apologies often result in the advisor feeling as if the customer has the upper hand.
Let's stop this parent / child customer / advisor relationship.
– Thanks to Ross
Find out how to add empathy and build rapport during customer conversations by reading our article: Rapport Building With Angry Customers – With Examples
Let The Irate Customer Vent
The customer may not be right, but the customer is always the customer. Remember the person on the end of the phone is not shouting at you. Don't take it personally!
They are shouting at the business you work for. So, sit back, relax and let the customer rant and rave. If you consider that they are shouting at you all the time, then you shouldn't be in the call centre business. So, remember always stay calm and you'll shine.
– Thanks to Anonymous
Stick to This Four-Point Plan!

Make notes – First listen to the customer very carefully and patiently. Make a note of every detail, as you can make your customer increasingly irate if you make them repeat and convey that you don't care.
Don't interrupt – Never, never interrupt the customer while they are explaining the issue. Let them pour out their aggression, and get them ready to listen and understand what you are saying. Always take a pause before you start. It'll help you avoid interruption.
Watch your tone – What you say is important; however, how you say it is even more important. So please make sure you pay attention to it. Saying anything or everything in a flat tone will make situation even worse.
Smile – Last but not the least, keep smiling. It'll help you not to lose your patience and keep calm, but it will also help you resolve the issue more effectively.
– Thanks to Gaurav Rana
Be Careful With Apologies
An apology given where it is not necessary is of no value to the customer and only serves to engender feelings of resentment in the agent.
These agents may think: "I'm being made to apologise to this person when all they've done is abuse me and I/the company have done nothing wrong."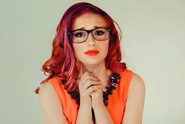 Think about it for a moment: how many times, just in general conversation, do you hear people say:
"I'm sorry, but I don't agree"
"Well, I'm sorry, but I never agreed to that"
"I'm sorry, but I'm not very happy"
What is there to be sorry about?
People use "I'm sorry" as a kind of shield, or a sweetener, before delivering something that they feel the other party will react negatively towards. And it displays a lack of confidence in their own opinions and feelings.
I'd like to see empathy combined with practicality from agents (not just my own) without ubiquitous apologies. Then, where an apology is given, it carries far more weight, is sincere and actually means something.
– Thanks to Anonymous
To offer a great apology, which may just be the key to turning around an angry customer, read our article: Customer Service Apologies – Keeping Sorry Fresh and Sincere
Follow The PIA Principle
The practice we have is using the PIA terms, which stands for:
P – Power word (react to the customer's emotion), "oh" or "oh my".
I – I statement (relating to the customer's experience) showing a human connection.
A – Assurance that you're going to resolve the customer's issue.
Example of using PIA: "Oh my, I can only imagine what you have been through… Let me pull up your account. I can definitely check available options for you."
– Thanks to Jolahadhen Ooc
Never Repeat The Phrase: "I Understand How You Feel"
In general practice, you should NEVER say that you understand how a customer is feeling. From personal experience, I can tell you that it never goes down well with the customer because to them you do not understand.
Trying to dig yourself out of this hole is impossible. Yes, you may have kids too, but you do not have their kids. Yes, you may own a similar product but you do not own their product.
This is especially the case when working in technical support or repairs, as if you say you understand them and then try to redeem yourself by saying you have had the same problem, even the nicest customer will pick up on this and get annoyed, assuming they have bought a faulty product from a bad brand, and may start to demand a replacement.
INSTEAD tell a customer that you appreciate their concern or anger. Tell them that you will help them to resolve this issue. By doing this you validate their feelings without providing reason for argument. Just ensure that you sound sincere whilst saying it, or else it may come across as patronising.
– Thanks to Louise
For more example of words and phrases to avoid when talking to customers – angry or not – read our article: 15 Things a Call Centre Agent Should Never Say (But Many Do)
Originally published on 5th September 2012. Recently updated.
For more advice on how to handle angry customer situations, read our articles: