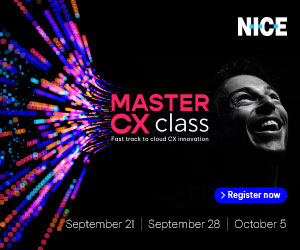 The key call recording suppliers
Business Systems
Call and voice recording, telephone logging and phone call quality monitoring systems, including voip, and screen, for a call centre or other needs, with consultancy & training.
Call Miner
Speech analytics software and solutions. Improve customer satisfaction. Increase agent productivity.
Infinity CCS
Infinity CCS provide applications and services to contact centres and companies that use them. Call recording is part of the Infinity CCS portfolio.
Magnetic North
Magnetic North Software has been a leading provider of contact centre systems since 1998. True multi-tenant, secure, cloud-based 'pay-as-you-go' services scale with your business and can run standalone, or alongside existing On-Premise systems, and over either PSTN or VOIP – and can be operational within days.
NewVoice Media
NewVoiceMedia is a leading provider of Hosted Contact Centre solutions. Call recording is available as part of the hosted suite of applications.
Nice
Provides global integrated digital recording and management solutions, serving the business needs of multiple markets.
Nexidia
Nexidia provides customer interaction analytics that enable companies to drive business transformation by capturing and using the full range of customer communications. Using the voice of the customer from phone calls, surveys, email, chats, and social media sites, Nexidia help companies synthesize this data for operational improvements and strategic transformation.
Sabio
An innovative contact centre systems integrator focused on helping businesses reduce costs whilst improving the customer experience, exploiting their IT/Telecoms investment with value-added applications.
Red Box Recorders
Red Box proivde solutions designed to meet the highly specific voice recording needs of different sectors, including the financial services industry and public safety organisations.
Verint
Actionable Intelligence solutions for workforce optimisation, networked video, communications interception, branch, remote and back-office operations, and public safety
Market research
ContactBabel
ContactBabel is an analysis firm focusing upon the global contact centre and CRM industries. Solution providers and contact centres alike use ContactBabel's industry knowledge to investigate and understand the industry through primary research and market analysis.
Other companies
The following companies are also involved in the call recording and speech analytics market.
ComputerTel
CTI Group
Horizon2
ReTell
Storacall
Veritape
Further Reading