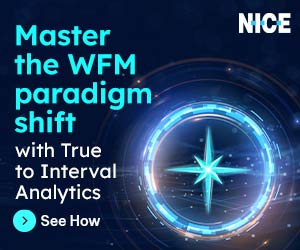 We asked our panel of experts for their best ideas for how to successfully plan, build and manage flexible schedules in the contact centre.
Be Transparent With Your Employees

Frontline and middle managers look to senior leadership for support, guidance and advice, but they also know that there are challenges that they must face.
Holiday hours and scheduling is stressful, so why hide that fact?
If you've hired, trained, educated and practised accordingly with your staff, they should welcome the opportunity to put their skills to the test.
The confidence that leadership displays in their frontline and administration directly impacts the attitude, environment and culture of your contact centre – especially at peak stressful or high-volume periods.
Your WFM technology is there to provide your entire workforce with the insights they need and the tools to respond accordingly.
Senior management should demonstrate the ability to predict, plan and forecast as well as the willingness to communicate that data down the line.
Open communication with your staff will help you utilize your data to actively adjust and customize scheduling and shift planning in order to prevent being caught off guard and under- or overstaffed.
Thanks to Julian Evans at Alvaria
Think of Flexibility as a Two-Way Street

Volatility in demand is often impossible to predict. Yet, by considering flexibility as a two-way street, contact centres can be better prepared for unexpected random events.
Indeed, if planners make a concerted effort to push through last-minute schedule requests from frontline staff or show flexibility in shift-swaps, agents are more likely to work overtime when "all hands on deck" are needed.
Managers can open frank conversations with agents, noting that at particular times of the year they might ask them to stay late. However, when they do, the agent will win that time back plus a little more, as a thank you.
Some operations may even encourage agents to highlight when they can work extra hours, as required. As such, planners have total transparency when drafting agents for overtime.
WFM solutions help manage this process while offering flexible shift lengths so agents can adjust their hours across the week.
Thanks to Nick Brook at Calabrio
Design Your Teams With Mixed Demographics
If you have a team comprised of a single demographic, like parents with young children, similar needs and expectations will make scheduling more problematic.
As for flexibility, especially during school holidays, for example, it will take a pretty big carrot or a potentially damagingly strict set of policies to achieve.
The aim should be diverse teams with balanced skill sets, or cross-skilled agents, who like each other enough to shift-swap and support each other. With a bit of intelligent design, the closer you get, the more flexible your teams become.
Thanks to Richard Gregory at Odigo
Have Simple Best-Practice Rules

Scheduling staff is never easy, but contact centre schedules can be particularly tricky.
Finding the balance between customer and agent requirements is a complicated exercise, but adherence to simple best-practice rules will help make the process easier and more effective.
Right from the hiring stage, be clear about scheduling requirements and look for staff with the scheduling availability and flexibility you need.
Try to ensure agents work their preferred shifts.
Develop a reserve pool of agents who are happy to be contacted as needed.
Schedule your most experienced agents for times of expected peak call volumes and rotate newer agents into this group as they become more experienced.
Provide continuous training for new and more seasoned staff.
Where possible, allow agents to self-schedule so they can swap shifts, schedule time off, and work from home. This takes some pressure off scheduling managers and is a huge morale booster.
Thanks to Caroline Leonard at Spearline
Be Realistic in Your Expectations
Being flexible but realistic is key for scheduling. Ultimately, employees want their employers to meet their lifestyle needs and customers want to be interacted with as quickly as possible.
Providing employees with flexibility when it comes to working hours, breaks and shift-swaps will allow them to work around any of their personal commitments, while still meeting the needs of the business, therefore increasing customer satisfaction.
Businesses also need to be realistic in the expectations they are placing on employees and, just as importantly, the targets they are aiming for. Increasing targets by 1 or 2 percent will exponentially increase your staffing requirements and reduce flexibility.
Striking the right balance between providing great service and maintaining employee morale is key and neither should be detrimental to the other.
Thanks to MaxContact
Set Expectations and Utilize Incentives

Flexibility has gone from a bonus in the work environment to an expectation. Care needs to be taken to set clear rules and boundaries, or the risk is employee dissatisfaction despite the best intentions.
Flexibility operates on many levels: inherent organizational flexibility with policies about split-shifts, shift-swapping and flexible starting times, contractual flexibility such as with minimum hours contracts, individual flexibility in favour of an agent.
Ultimately, it is no one's job to be flexible, so organizations need to be clear about meeting staffing levels but be flexible on how that is achieved.
Universal rules avoid any impression of favouritism or bias, but advanced workforce management tools and incentive schemes enable autonomy and encourage mutually beneficial flexibility.
Thanks to Richard Gregory at Odigo
Emphasize Employee Accountability and Autonomy
Integrating workforce management (WFM) software into your call centre agent scheduling process will empower your agents to manage their own schedules.
This includes managing holiday time off, vacation, shift-switches and bidding. Giving agents the autonomy and self-service scheduling training to manage their needs ensures that staffing becomes a shared and accountable action between agents and administrators.
Accountability and planning for administrators means using and playing out "what-if" scenarios for forecasting, scheduling and absenteeism.
Management must fully understand the impact and potential for spikes/lulls, crisis or outages, especially during the holidays.
Any variable that could impact customer support and agent performance should be examined and simulated to help you prepare and forecast across channels.
Any variable that could impact customer support and agent performance should be examined and simulated to help you prepare and forecast across channels.
Seasoned administrators know that alerts and workflow triggers can be tied to "if this then that" events such as changes in schedule adherence, shrinkage and service level.
Thanks to Julian Evans at Alvaria
Start Simple and Build Up
The more flexibility measures you introduce, the more complex working arrangements can become. The days of Excel spreadsheets for anything but the smallest customer service departments are in the past.
Workforce management (WFM) tools enable automated scheduling according to an organization's rules, minimizing error and bias. However, there also needs to be flexibility in the system too.
Adding forecasting, planning and catering to a long list of policies and requirements can severely limit your flexibility rather than boost it, leading to compromise after compromise when it comes to staffing.
The key is to start with a simple set of policies but enable agent autonomy by introducing features like shift-swapping and WFM apps which make picking up extra work easier.
One by one, and only as appropriate, new measures can be introduced and monitored to ensure they have the desired effect.
Thanks to Richard Gregory at Odigo
Let Home and Hybrid Workers Choose Their Own Work Schedules

Workforce management (WFM) vendors have long supported the ability of advisors to shift-swap and request holidays.
However, that kind of self-selection is just no longer sufficient in today's work-from-home (WFH) and hybrid world.
According to the 2020 Home Agent Study – a study into people who voluntarily choose to WFH – three-quarters of people enjoy a better work–life balance by doing so.
And key reasons are their ability to work around other daily priorities, and save the hours lost to the daily commute.
Many employees need more than just WFH to deliver that improved work–life balance and especially if they are working mums, carers, people living with a disability, or simply people who live a long way from the office.
Frontline employees need the ability to (at least partially) self-select their work schedules with split-shifts and weekend/evening working where appropriate, and employers need to be able to support those requests.
Most traditional WFM platforms can't support that functionality, but there are now platforms available that do.
Fail to support flexibility and you run the risk of people leaving for a competitor that can.
Thanks to Simon Hunter at Sensée
Build Schedules That Support Lifestyle Needs
The move to remote and hybrid working has driven the demand for greater flexibility in both when and where agents work.
Thanks to modern WFM technology, it is now possible to apply standard and extended shift preferences for home and office working.
By using shifts with either "home" or "office" category labels, agents can pick both their preferred time and location to work.
Use shift preferences and shift-bidding to build further flexibility. Shift-bidding allows agents to pick from a selection of predefined shifts and they will get one of their choices when the bidding process is finalized by the WFM team.
By using shifts with either "home" or "office" category labels, agents can pick both their preferred time and location to work.
Preferences allow agents to submit their preferred shift, and when scheduling, planners will optimize their preferences to fit the operational demand. Therefore, agents may get 100% or less of their preferences.
Everyone benefits – agents get some input as to when they want to work and it means that schedules become closer to operational requirements.
Thanks to Nick Brook at Calabrio
Get Creative With Schedules
Much has been said about the Great Resignation that was sparked by the COVID-19 pandemic. There were many reasons for the surge in resignations, but the biggest one that HR managers reported was a lack of flexibility in work arrangements.
Employers that wish to stem the tide of attrition must get creative with their scheduling flexibility.
Ultimately, this means offering contact centre employees as much freedom as possible around when they work.
This may seem difficult to do, given the importance of customer service, but it's not impossible. For instance, you can set "essential work hours" for your high-volume times but be flexible about breaks outside of those periods.
Split-shifts that are broken into different parts of the day are another option. Or you might allow employees to exchange shifts with other agents or get extra time off for working less popular shift times.
Thanks to Cyara
Implement Flexible Start Times and Shift Lengths
One way to flex agents' schedules without too much drama is to introduce flexible start times. Rather than having a rigid rotational pattern with fixed start times, build in flexibility at the beginning of a shift.
Rather than having a rigid rotational pattern with fixed start times, build in flexibility at the beginning of a shift.
For example, instead of starting at 9am, allow agents to begin their day any time between 8am and 9am or use a shift category such as Early or Late Day. This way the system will be able to pick the best fit for the customer demand without changing agents' schedules too dramatically.
Similarly, rethinking shift lengths can be another great way to add flexibility. Rather than scheduling static 8-hour shifts over 5 days, configure your WFM to pick what is best to meet demand and potentially be better for agents.
For example, 6 hours one day or 10 hours the next. Provided notice is given to allow agents to plan, this way of working can prove popular.
Thanks to Nick Brook at Calabrio
Put in Place the Right Technology to Support Schedules

Meeting rising customer expectations while also empowering your agents is critical to contact centre success. A key component of achieving this is flexible scheduling.
AI and intelligent automation systems optimize self-scheduling, empowering agent autonomy while ensuring changes will benefit net staffing.
Ideally, the self-scheduling programme goes a step further, utilizing gamification to incentivize agents to take on less desirable or critical shifts, thus making sure that staffing levels always meet customer demand even during holidays, peak periods and absences.
Whatever your customer support needs may be, implementing the right CX software is essential. Not only can it help with flexible scheduling, but it can promote agent accountability and retention, and lead to quicker solutions for customers.
The technology required for seamless customer experience on both sides exists – how you use it is up to you.
Thanks to Dana Shalev at NICE
Be Proactive With Cross-Training
As contact centres offer more service channels, they may see growing numbers of agents who are specialized in one service area.
For instance, one group of agents may focus on phones, whilst others deal with chat and SMS channels. This specialization allows agents to deliver service that fits the medium, and it can enhance customer experience.
However, it also limits agents' abilities to work in different channels, thus reducing flexibility in the contact centre.
Instead of training only hyper-focused agents, flexible contact centre managers should aim to cross-train agents, filling skill gaps and creating a workforce that can shift with service demands.
Agents can still be specialists, but they should be capable in all service channels. This benefits not only the contact centre, but the agents who gain more freedom to work different channels based on what best fits schedules.
Thanks to Cyara
For more great insights and advice from our panel of experts, read these articles next: