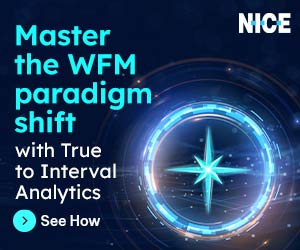 Our panel of experts share their advice for cutting costs in the contact centre, presenting their favourite methods for doing so.
1. Assess How Your Metric Scores Impact Costs
In the contact centre, there is little understanding of the exact correlation between cost and quality.
For example, do you know how much a one percent increase in customer satisfaction (CSat) impacts your revenue? How much can you save?
These questions can be answered through careful analysis or through machine learning, which can give you a much easier and clearer understanding of how costs and the customer experience relate to one another.
If we can use this analysis to find which customer-facing metric – CSat, first contact resolution (FCR) or quality scores etc. – has the biggest impact on our bottom line, we can focus on benchmarking that metric.
Then, we can find ways to save costs by boosting this metric score, while tracking our improvements to both this metric and relevant costs.
Thanks to Dan Somers at Warwick Analytics
2. Focus on Improving Your Resource Planning
Updating your workforce management (WFM) and forecasting techniques can help you to save a significant amount of money through resource planning precision.
Resource planning precision can allocate the right employees, with the right skill sets, at the right time.
Resource planning precision can allocate the right employees, with the right skill sets, at the right time. This ensures costs related to overstaffing or even understaffing are avoided, as well as ensuring customer interactions are managed efficiently.
Also, self-service functionalities within modern WFM systems can empower advisors to highlight their work preferences, including time-off requests and shift-swap changes.
Giving advisors this control can significantly cut administrative costs in the contact centre and improve advisor engagement. This will lead to a reduction in advisor attrition, ultimately saving the contact centre costs in terms of recruitment and training.
3. Implement Desktop Automation
Robotic process automation (RPA) automates repetitive processes and increases efficiency, with the goal of lowering operational costs and allowing advisors to focus on tasks of greater value to the business.
Automated processes, along with desktop automation, sit on an employee's desktop and guide them by suggesting more efficient ways to work. This means customer requests can be dealt with quickly, efficiently and with greater control.
By doing so, you can also better meet your service levels, freeing up staff to focus on the interactions that matter. This helps to build a positive customer experience which will ultimately help you save costs and achieve success.
Thanks to Neil Draycott at Business Systems
4. Anticipate Customer Needs and Provide an Online Answer
The obvious way to cut costs in the contact centre is to reduce call volumes. This can be done well through anticipating customer needs and providing an answer, without involving an advisor, before the question is asked.
To do this, we need to undergo a customer journey mapping exercise and create a proactive strategy that highlights where on the journey is best to intervene.
Then, with our plan, we need to think about what our proactive notifications will look like and what tools we need to implement to turn our plans into a reality.
Just think about the use cases that are already out there, especially those that best fit this scenario in channels that work the best for your customers – maybe it is voice and SMS or other channel combinations.
Thanks to Gayathri Krishnamurthy at NICE inContact
5. Boost Your First Contact Resolution Rates
To reduce costs and improve the customer experience, it is good to focus on improving your FCR rates, which you can either do through improving training or implementing technological solutions.
You can increase the accuracy of advisor-to-customer responses by putting expert collaboration tools at your advisors' fingertips.
As an example, you can increase the accuracy of advisor-to-customer responses by putting expert collaboration tools at your advisors' fingertips.
Great collaboration tools will enable your advisors to locate and chat with internal or external experts (as you define) to quickly validate or gather answers for any situation/need.
As well as this, you can add speech analytics to your technology stack and gain an aggregate view and visibility into the topics of conversation and the outcomes of every customer interaction.
6. Find Safe Ways of Reducing Handle Times
Looking to reduce average handling time (AHT) is always a controversial topic within the contact centre, as many before have looked to target advisors on the metric, which has had a negative impact on call quality.
However, there are many better ways to reduce AHT in order to cut costs through lowering your required workload capacity, without negatively influencing the customer experience.
One way to safely lower AHT would be to provide shortcut tools to your advisors so they can get things done faster to expedite the interaction, therefore providing a better customer experience.
Having access to a library of quick replies is a great starting point, but advanced ACD solutions can even provide quick voice replies for phone calls too.
For digital channels, having access to a library of quick replies is a great starting point, but advanced ACD solutions can even provide quick voice replies for phone calls too.
7. Minimize the Number of Technology Vendors
Contact centres often work with multiple technology vendors, so it can be good to cut costs while easing advisor and supervisor effort by consolidating to one or two technology platforms.
Not only does this reduce the amount of toggling, but it will reduce the amount of time spent training your advisors on technology and enable more training time to focus on providing great service.
Also, by working with fewer vendors, you can lower technology costs by partnering with providers that can solve multiple needs.
Working with technology companies that have a wide array of products creates an opportunity to get some valuable bundle pricing to reduce your overall technology costs.
8. Reduce Inbound Contact Volumes
As with reducing AHT, you can reduce contact volumes to cut workload-related costs, but you need to be careful in how you do so.
One method would be to leverage self-service options to deflect traffic while still protecting the customer experience.
One of the most impactful call deflection tools is an intelligent IVR to address a wide variety of customer needs, from providing status information and updating account details, to fulfilling repeat orders or needs.
The really advanced intelligent IVR tools will even provide analytics to inform you of areas of strength and opportunities within your IVR to clearly and automatically identify and provide suggestions for improvement.
Thanks to Patrick Russell at 8×8
9. Invest in Creating a Culture of Learning
A great culture of learning and development starts with getting your recruitment right.
So, we must first focus on looking for candidates who instinctively understand how the customer is feeling and use that information to deliver positive customer outcomes across different channels.
Then remember that the best advisors use their initiative and are collaborative, so, once recruited, encourage them to delight customers in their own way and then feed success stories into an easily accessible knowledge base.
The best advisors use their initiative and are collaborative, so encourage them to delight customers in their own way and then feed success stories into an easily accessible knowledge base.
Effective knowledge sharing saves time and money. It helps advisors and self-service customers to get the answers they want while maximizing ROI in digital channels.
So, we should also think about implementing knowledge management techniques, such as having "Knowledge Champions", as that can really help to develop your learning culture even further.
10. Listen to Your Customers
Customer feedback is a key part of finding inefficiencies in your customer journeys. But what we don't want to do is restrict it to what customers thought of their last experience.  We want to provide customers with opportunities to leave feedback, without being invasive.
To do this, build feedback tools into systems to give customers as many opportunities as possible to share vital intelligence and then act on customer insight.
It can assist in better understanding customer needs, improving call scripts and advisor training, resolving problems and enhancing business processes.
With a fresh approach, resourceful people and creative technology all focused on productivity, you'll not just save money, you'll make more of it.
Thanks to Gunnar Aasen at Puzzel
11. Rethink Your Self-Service Strategy
From self-checkouts to FAQ pages and contact centre IVRs, consumers are more willing than ever before to try to solve their problems themselves.
This doesn't mean that they no longer want to call and talk to a real person, but it does mean that through clever use of self-service tactics, contact centres can save both time and money when answering simple queries.
To do this without negatively impacting the customer experience, just ensure that you plan your self-service implementation around a customer-orientated goal, not an operational goal.
The operational and cost improvements will come, so long as you have put the necessary work into creating your self-service strategy.
Thanks to Artur Michalczyk at NewVoiceMedia
12. Consider Utilizing Automated Text Alerts
Any customer enquiry that doesn't reach an advisor but has a positive outcome will save money. It also provides good customer experience and frees up your resources for more complex queries.
An automated text alert after customer interaction is a great example of how to delight your customer further.
Escalation to a live advisor should always be an option, but for simple customer enquiries that you get in high volume, automation can be a great option.
Thanks to Martin Cross at Connect Managed
13. Use Speech Analytics to Highlight Inefficiencies
To eliminate avoidable costs, you need to understand the root causes of your inefficiencies – whether that's a process, a policy, or your technology.
Recent advances in speech analytics can help you isolate those root causes by building category frameworks. You can also use prebuilt advisor monitoring frameworks that analyse each of your advisors' interactions with your customers.
With this knowledge in hand, the next step is to then understand which of these areas are driving the inefficiencies in your operation.
Here are two KPIs that will help you discover the root causes of your problems:
Excessive Average Handle Time (AHT) – Understand contact drivers and advisors that have higher handle times compared to the mean. These are typically a sign of a broken process, silos, or a lack of empowerment (training or systems) of your advisors.
Excessive Silence – If there is a lot of "dead air" or silence on the calls, it often indicates agents putting customers on hold and looking up internal systems or knowledge bases. Understanding the root cause of the silence helps in improving access to appropriate information and training agents.
Using analytics, you can then create reports that at one glance can tell you outliers that are causing excessive silence and handle time.
Take the report below as an example for how to do this. A supervisor is looking at their team's performance (bubbles) and pinpointing personnel who have excessive handle time (x-axis) and excessive silence (y-axis).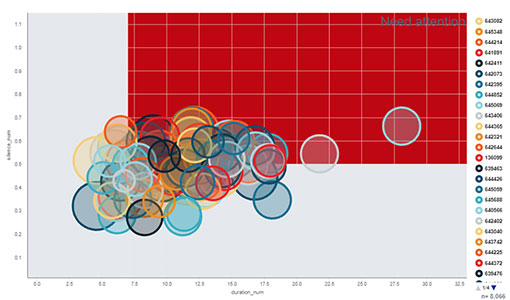 Thanks to Shorit Ghosh at Clarabridge
14. Implement In-Queue Signposting for Customers
Using a system which sends automated SMS messages to queuing customers to help them to self-serve can avoid costs.
Using a system which sends automated SMS messages to queuing customers to help them to self-serve can avoid costs – but you need to ensure you offer self-service in the right areas.
To do this, combine ideas from your advisors on the front line with information from desktop technology. This technology makes operations visible by capturing contact outcomes and providing real-time and historical information.
Integrating screen recording also avoids costs, because you can play back interactions. Then, you'll have clarity on the calls/services which could benefit from self-serve.
15. Reconsider Your Outbound Systems
A modern outbound system will avoid costs by ensuring proactive contact capabilities. It will also help to shoulder the workload, allowing advisors to be deployed more effectively within the contact centre budget.
It frees them up to tackle less routine or more urgent tasks, improving productivity and maximizing their skills and strengths.
The outbound system ensures compliance (potentially a huge cost saver) and can be configured to call back, within business rules, if there's no answer.
It can also potentially improve customer contact rates and engagement across all business sectors.
Thanks to Ken Reid at Rostrvm Solutions
16. Simplify ID&V Processes
Identification and verification (ID&V) of customers is a necessary but significant burden on a contact centre, taking anywhere from 30 seconds to over a minute at the start of every interaction.
Moving this to an automated IVR provides many cost saving benefits; removing the time from the advisor portion of the interaction, giving an opportunity to route based on customer information or preferences and enabling a more elegant opening.
By doing this advisors can also greet the customer by name, rather than starting with an interrogation.
To ensure the optimum customer experience, keep "re-tries" (the number of times a customer is asked for information before they are transferred) to a minimum. This avoids frustrating customers who cannot, or will not, complete ID&V in an automated system.
Also, always pass all relevant information to the agent when transferring a call to ensure a seamless transfer.
Thanks Andy Hearsey at Noble Systems
17. Use Automation in the Right Places
Automating different aspects of your contact centre that add no value and where employees are effectively acting as robots will make a difference.
For example, employees' desktops that require the use of multiple systems or a repetitive and mundane quality management process where QAs are simply moving data from one system to another.
Automating processes like these will provide you with more efficient results as it will enable employees to work faster and be more engaged.
In the same manner, automating data collection into a single view of the truth will help you provide personalized feedback to keep your workforce engaged, as well as cutting out many of the mundane tasks.
Thanks to Ed Creasey at NICE
18. Consider Moving to the Cloud
We're now seeing an era of expensive on-premise hardware come to an end with the emergence of cloud-based contact centre as a service (CCaaS) solutions.
CCaaS solutions provide the same capabilities as on-premises services but without expensive upfront hardware costs. This is because a cloud system offers additional features and flexibility, giving it more mobility than on-premise solutions.
Businesses also won't need to pay for more servers or extra floor space – they will only pay for what they actually need, and can scale as required. This makes it easier for businesses to start small and grow at their own pace.
Beyond these technical advantages, CCaaS doesn't require the same level of IT support as on-premise, as maintenance and upgrades are included as part of the service – which means these cost savings can then be put back into the business.
Thanks to Sunny Dhami at RingCentral
19. Install an AI-Infused Knowledge Base
The best knowledge bases are those which provide an easy experience. Those that do so help to support advisor training, through speeding up their time to competence, and improve advisor effectiveness, through reducing dead airtime.
Both of these features have cost benefits, as you can reduce training costs and handling time, but an AI-infused knowledge base can go even further.
For example, these knowledge bases have machine learning included in their intelligent search, to speed up the advisor search and better prioritize the knowledge.
This type of knowledge base can not only help to reduce costs but also improve the customer experience, as a leading British telco found out, after realizing the following benefits after installation:
37% improvement in First-Contact Resolution (FCR)
30 point improvement in NPS (Net Promoter Score)
50% reduction in agent time to competency
Thanks to Anand Subramaniam at eGain
20. Build Your Processes Around Customer Needs
Short-term cost savings will nearly always come at a cost to the customer experience, unless they are part of a long-term strategic goal to build your processes around the needs of the customer.
Having said that, self-service options can definitely achieve twin goals of reducing costs and meeting customer needs, but only if you build them with the goal of improving the overall customer experience.
There is lots of evidence to show that customers will embrace self-service for straightforward and repetitive tasks, such as checking a bank balance or even booking a delivery that suits their own schedule and not that of the carrier.
If done properly, self-service can free up your agents to focus on the complex enquiries where their communication skills can really make a difference to the customer relationship, leading to more job fulfilment and more satisfied customers.
Thanks to Martin Wyatt at West Unified Communications
21. Use IVR Self-Service For Identity Verification
Contact centres can enable their customers to self-serve and complete identity verification while they wait in a queue to speak with an agent.
On average the process where an agent asks a customer to provide their identification and then verify it can last around 30 seconds.
Assuming a large contact centre takes 1,000,000 calls per annum this could potentially save 300,000,000 seconds, which is 500,000 minutes, which can be reused within the contact centre.
According to Contact Babel's 'The UK Contact Centre HR & Operational Benchmarking report 2018/19' the average mean call duration for a service call is over five minutes and costs £4.27 for inbound calls.
This works out at around £0.854p per minute and £0.427 for 30 seconds service delivery charges.
Assuming a contact centre introduced an automated ID&V solution and customer adoption was 100% on all 1,000,000 calls per annum received, an organisation could save around £427,000.00 on the time usually spent speaking with customers.
22. Switch From Direct Mail to Digital Mail
The cost for sending letters can range from around £0.40p to £1.43. There are businesses that automate most of their processes for sending direct mail and those that invest a considerable time and effort in their contact centre and back office completing this manually.
In this day and age sending direct mail is not only costly and labour intensive, it can be slow and unreliable and the amount of paper used has a far greater impact on our environment than sending via SMS.
In addition to helping the environment, firms can remove or reduce the need to use stamps, paper, envelopes, printers and maintenance for printers.
Also, you can save money through the time taken by agents and back office staff to process the letter, as the customer receives their SMS almost instantly as opposed to having to wait one or two days. This can improve customer experience and speed up the resolution of different enquiries.
Thanks to Darren Gracie at GCI 
For more from our panel of experts, read our articles: