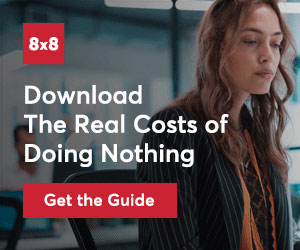 Contact centres have years of experience of dealing with telephony enquiries, letters and even emails, as these are well-established contact channels, whilst messaging, social media, and video are, by comparison, relatively new.
Yet customers are not willing to accept shortfalls in the level of service they receive on these channels, regardless of how 'new' they are.
Especially as those who would choose to reach out via these channels are generally going to be proficient in their use. Not to mention that social media gives them a platform to vocally, and publicly, air their grievances.
So how exactly are contact centre leaders managing messaging, social media, and video right now?
Use of Live Chat and Social Media on the Rise
To capture a snapshot in time of the mix of contact channels in use across the industry, we included the question in our What Contact Centres Are Doing Right Now (2023 Edition) survey research.
Whilst voice and email continue to dominate the industry, the results showed year-on-year changes for other channels, with social media increasing (from 2.8% to 3%) and live chat increasing (from 7% to 7.2%). Interestingly, the results also showed a slight decrease in video (down from 0.6% to 0.4%) – as seen in the graph below: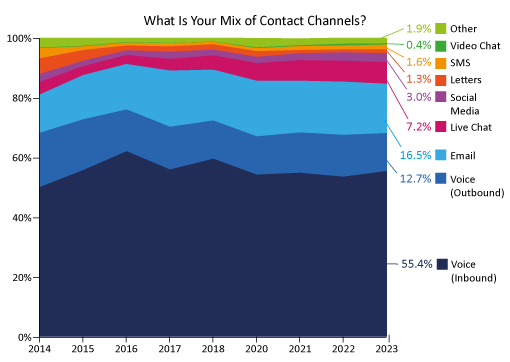 Facebook Is Widely Used Across Contact Centres
To delve a little deeper, we also asked which apps contact centres are using to interact with their customers, and the results highlighted a wealth of variety across the industry.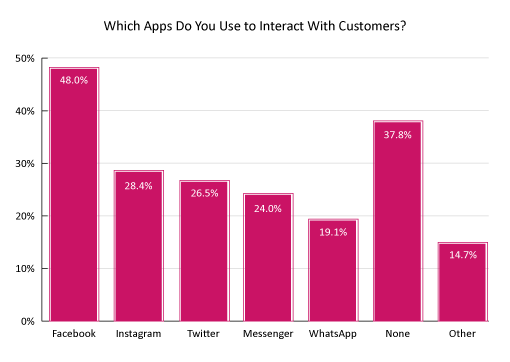 However, almost half of survey respondents (48%) said that they were using Facebook to interact with customers, followed by around a quarter using Instagram, Twitter, Messenger, and WhatsApp.
Furthermore, of the 14.7% who said 'other', the most frequently mentioned apps were LinkedIn, MS Teams, TikTok, YouTube, and Viber – with some survey respondents also claiming to be using their own in-house built apps.
☆☆☆☆☆
8 Best-Practice Ideas for Messaging, Social Media, and Video
With so much variety in play, it can be hard for contact centre leaders to get it right.
That's why we've asked the experts for their best-practice ideas to help you get the most out of your messaging, social media, and video channels – kindly shared by Finlay Macmillen at Odigo and Justin Robbins at 8×8.
1. AI Can Act as a Digital Concierge
Effective messaging services, such as WhatsApp and SMS, encourage repeat use. This relies on aligning with customer expectations for rapid responses and providing appropriate care.
Although in many situations agents can handle multiple queries with answers (given at a small delay), it is crucial to identify and prioritize serious or time-sensitive issues.
Effective messaging services, such as WhatsApp and SMS, encourage repeat use. This relies on aligning with customer expectations for rapid responses and providing appropriate care.
These issues can quickly escalate – even with short pauses between messages. This is why AI can be so beneficial, essentially acting as a digital concierge to handle simple predictable FAQs, identify intent and escalate queries to agents.
This results in near-instantaneous answers for simple things and accelerated responses for contextual or time-sensitive issues, allowing agents to prioritize care appropriately.
2. Have a Set of Standards to Adhere To
Leveraging social media for customer service involves active monitoring, rapid response, and authentic engagement. So encourage your agents to resolve issues in private Direct Message conversations, whilst demonstrating publicly that support is available, and escalating when needed to subject-matter experts.
Any delay to resolution should trigger regular customer updates throughout the query or complaints process.
Social media platforms are highly visible by nature, so caution is needed, as short-form responses can potentially be misinterpreted and/or fall foul of privacy and GDPR laws.
This is why having a set of standards to adhere to, and implementing specialized training is critical to protecting brand image online.
Responses should reflect company policy, while being empathetic to customers who may be very upset and using social media as their space to voice complaints and frustration.
3. Video-Based Service Can Enable Advanced Problem-Solving

Video-based customer service is becoming normalized as a replacement for face-to-face meetings and to provide advanced problem-solving and personalized immersive experiences.
Visually demonstrating a problem makes it easier for an agent to provide tailored advice, with the same being true for co-browsing, which can help with navigating online resources and forms in real time with the customer.
This enhanced collaboration helps reduce the need for multiple conversations which can delay resolution and have more serious implications in verticals like healthcare and insurance.
It's also important to adapt to evolving customer expectations from a commercial standpoint, as virtual product demonstrations can help with converting prospects, upselling, and cross-selling.
Contributed by: Finlay Macmillen at Odigo
4. Let Customers Know When to Expect a Reply
When establishing expectations and delivering a positive experience through messaging, it's important to clearly define your response time objectives and balance how those manifest through automated and human-assisted communication.
For example, unless you offer an immediate response by a human, you should communicate your response time clearly within your messaging app, ideally within your automated greeting message. Let customers know when to expect a reply: within minutes, hours, or by the next business day.
5. Try to Maintain a Reasonable Response Time

That said, you should prioritize responsiveness: Customers appreciate prompt responses. Try to maintain a reasonable response time even during peak hours. If there's a delay, acknowledge it and keep the customer informed.
Speaking of automation, your messaging channel shouldn't rely exclusively on bots to do the work. For complex or emotionally sensitive issues, a human touch is irreplaceable.
Ensure a seamless transition to a live agent when needed, and clearly communicate when the customer is speaking to a bot.
6. Clearly Define Social Media Roles
One of the most important aspects of deploying social media as a service for customer engagement and support is establishing clear roles and responsibilities for any departments involved.
For example, it's common to see both marketing and the contact centre managing social media interactions.
You must define who should respond to what types of posts and under what circumstances.
Common ways to define these posts include:
Promoters: Customers who sing your praises on social media. They share positive experiences, give glowing reviews, and may even advocate for your brand. Your approach to engaging them should be to acknowledge and thank them publicly to strengthen their loyalty.
Detractors: Detractors express dissatisfaction or frustration with your product or service. Responding promptly and professionally is crucial, aiming to resolve issues and turn detractors into promoters. Addressing complaints publicly demonstrates your commitment to customer satisfaction.
Neutrals: Neutral posts may not be overtly positive or negative but can still hold valuable insights. While it's not necessary to engage with neutral posts, you could ask questions or seek feedback to uncover potential areas for improvement and convert them into promoters.
Collaboration is the key to successfully serving any of these individuals on social media. The contact centre can provide valuable insights into customer issues and sentiment on social media, which can inform marketing strategies and messaging.
7. Remember to Use and Interpret Non-Verbal Communication in Video
One of the more nuanced aspects of delivering service and support over video is knowing how to use and interpret non-verbal communication skills effectively.
Here are a few things I teach when training teams to experience success in delivering video-based support.
Maintain Eye Contact: Encourage agents to look directly into the camera to simulate eye contact. This creates a more engaging and personal connection with the customer.
Posture: Teach agents to sit up straight and maintain good posture. Slouching can convey disinterest or lack of professionalism.
Gestures: Train agents to use appropriate gestures to emphasize points or express empathy. Avoid excessive or distracting gestures that may disrupt the conversation.
Smiling: Remind agents to smile genuinely when appropriate. Smiles convey warmth and friendliness, making the interaction more pleasant.
Active Listening: Encourage agents to nod or provide facial cues to show they are actively listening and understanding the customer's concerns.
Neutral Expressions: Advise agents to maintain a neutral facial expression when the situation requires empathy and understanding, as overly cheerful expressions may sometimes seem inappropriate.
Remember, your agents (and the customers) can say more about what they think and feel than the words they use. The more you're in tune with these non-verbal cues, the more prepared you are to understand and serve the customer effectively.
8. Have a Customer Access Strategy in Place
You can collect all of the tips in the world, but do you feel confident in your ability to organize and operationalize them once you have them?
A Customer Access Strategy enables business leaders to answer this question. It creates a clear and comprehensive framework for service design and delivery across any modality.
When developing your strategy, you'll get a broader perspective and greater buy-in if you engage multiple stakeholders.
In the past, I would involve my agents, supervisors, peers in other departments, and even customers in the evaluation process for deploying a new channel. They often bring ideas, identify challenges, and offer improvements that could otherwise go unnoticed and create future challenges in deployment.
No matter how you go about it, always plan to deploy a pilot where you can quickly validate, iterate, and ultimately improve your ability to deliver service at scale across your new channel.
Contributed by: Justin Robbins at 8×8
For more great insights and advice from our panel of experts, read these articles next: