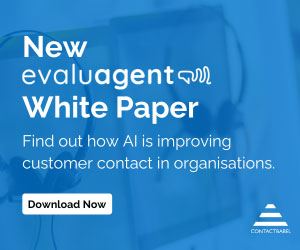 Manually identifying inefficiencies in the contact centre can be time consuming at best, and unreliable at worst.
We asked our panel of experts for their top advice on how to use technology to effectively spot and address contact centre inefficiencies.
How to Use Technology to Effectively Address Inefficiencies
Here are 15 ways contact centres can use technology to spot and address inefficiencies:
1. Use AI to Automate Basic Tasks and Support Agents
The 15 million contact centre agents worldwide suffer common inefficiencies that new technology can easily solve.

For example, many agents continue to work on basic tasks, such as resetting customers' passwords.
However, artificial intelligence (AI) tools automate basic tasks and give time back to call centre agents, enabling them to focus on more effective work and handling more calls.
Many call centre providers struggle to deliver the seamless, end-to-end experiences that the modern customer demands. In fact, our research with Forrester found that only one in four decision-makers would be extremely happy with their company's user experience if they were a customer.
But contact centre technology that utilizes tools and techniques like AI and automation can engage callers by automatically verifying their identity and enabling rapid self-service.
The technology helps call centres quickly route customers to the most appropriate or relevant call agent, which boosts user satisfaction, reduces wait times and increases the chances of first-time resolution.
It also gives call centre agents real-time insights, enabling them to provide more accurate and efficient responses.
Contributed by: Vijai Shankar at Uniphore
2. Use WFM Software to Improve the Accuracy of Your Forecasts
Do you recognize either of these problems?
You have periods during which you don't have enough agents logged in to handle customer interactions. Customer experience is poor, your agents are stressed and (in a sales operation) sales are down.
You have periods during which you have more agents at work than you need. That is not only wasteful, but it's also demotivating for your employees.
If you do recognize these symptoms, the finger is pointing at unreliable forecasts. Forecasting uses historical data to predict future contact volumes, average handling time (AHT) and other drivers of demand.
A good WFM application will automatically import the historic data and use techniques like artificial intelligence to deliver ever-more accurate forecasts.
3. Optimize Scheduling to Address Staffing Issues
If you are experiencing periods of under- and overstaffing even though your forecast is accurate, that's a clear indication that your scheduling practices are inefficient.
Optimized scheduling creates shifts for individual employees that align customer 'demand' with the 'supply' of agents down to 15- or 30-minute interval levels, as consistently as possible.
A modern WFM application will do that while making sure that the shifts are compliant with all relevant labour laws and take into account working time constraints and preferences agreed with each agent.
It will even schedule breaks, 1-to-1s, training and meetings at times that are both convenient for employees and optimized around demand.
Remember, the single most valuable – and costly – resource in every contact centre is the employees. You should give their working times the attention they deserve.
Contributed by: Chris Dealy at injixo
4. Focus on Voice of the Customer Technology

Voice of the customer technology leverages artificial intelligence to extract actionable insights from both conversational platforms and feedback programs.
This can include channels such as webchat, email, social media, surveys or even speech-to-text data. Armed with these valuable insights, contact centres can identify common themes and pain points.
Understanding the context will enable CX teams to solve individual problems and improve business processes and also provides insight into larger issues. This in turn can lead to cost savings, drive great customer engagement, and improve the overall efficiency of the contact centre.
5. Make Use of Call Recording Capabilities
Call recording is an essential tool for the modern-day contact centre. It not only helps organizations meet regulatory compliance, but it can assist in dispute resolution and has an important role to play in spotting inefficiencies and improving contact centre performance.
It can be used to reward good performance, identify training opportunities, or provide real-time alerts if a call is not going well – all essential for fine-tuning the customer experience and addressing operational issues.
However, manually analysing customer interactions can be an impossible and daunting task for supervisors.
By adding AI into the mix, team leaders can objectively evaluate 100% of agent communications, which means you are not missing those important conversations or coaching moments. This all paves the way for a more efficient and streamlined contact centre.
Contributed by: Colin Mann at Enghouse Interactive
6. Join Performance Management and Quality Management Together

Contact centre managers can do little to stem the flow of unexpected call spikes or complex queries but they can give agents the training and tools to tackle these challenges with confidence.
The good news is most operations – 96% – are already on the right track, prioritizing agent upskilling and making significant investments in analytics to empower agents with customer insights.
Go one step further and make automated performance management (PM) and coaching an integral part of your quality management (QM) programme. It's a powerful combination, and yet, many contact centres treat QM and PM separately, leading to risky disconnects.
On the one hand, modern PM tools monitor real-time performance, assess quality objectives, and identify skills gaps, successes, and opportunities for personal development.
Meanwhile, digital QM solutions capture and evaluate every single customer interaction and increase employee engagement with timely feedback loops and built-in gamification tools. Dovetail the two to join the dots.
7. Desktop Analytics Will See What's Really Holding Your Agents Back
Talking to our own customers, we know that agents often have to deal with 10+ desktop applications. However, gone are the days when agents were a few steps away from the IT department, which means today's remote and hybrid working teams need all the help they can get.
Start by boosting efficiency behind the scenes and taking a closer look at what technology is holding agents back and what technology is helping them to succeed.
Today's remote and hybrid working teams need all the help they can get.
The latest desktop analytics tools rapidly detect what applications are being used during customer interactions and then unearth any slow or badly designed applications that make agents' lives harder than they need to be.
This kind of visibility pinpoints and helps prioritize the technology issues that need to be fixed to achieve greater efficiencies. Agents then quickly find the information they need to deliver excellent service and customers receive the answers they need first time around.
Contributed by: Graeme Meikle of Calabrio
8. Combine System Data to Improve Analytics and Insights

Contact centres generate a lot of data that can be harnessed to create insights and drive operational improvements.
By combining data from their CCaaS solution, CRM, workforce management tool and other related data sources, contact centres can run advanced analytics that can explain, for example, why certain campaigns are more successful on some days and times than others, or highlight that some agents are more successful at dealing with a particular type of query, which in turn creates both agent routing (leading to better FCR) and training opportunities.
Map these opportunities to your key performance indicators (KPIs) to focus on the highest impact areas first. Once the data sources are connected together, the next stage on a data transformation journey is to leverage AI and machine learning to automatically identify opportunities for continuous improvement.
Contributed by: Matthew Yates at MaxContact
9. Use Supervisor Dashboard Technology to Empower Managers With Real-Time Insights

Contact centre managers have many responsibilities throughout the day. From tracking key metrics to providing feedback and coaching to agents.
A lot of their day is spent manually monitoring and identifying performance issues. Having access to powerful supervisor dashboards can save valuable time and provide additional insights.
Such dashboards give supervisors a 360-degree view of performance with real-time metrics. Multi-conditional alerts inform them of issues to allow them to make corrective actions where needed, right from the single pane of glass.
Real-time monitoring of agent interactions across voice and digital channels is combined with tools to assist agents to help them learn and improve.
These capabilities are especially critical for remote contact centre environments where agents may be dispersed across the country or world. Contact centre supervisors become more efficient and effective with supervisor dashboard technology.
Contributed by: Mat Ladley at Five9
10. Modify Employee Coaching and Training Sessions

A robust desktop analytics tool can efficiently spot and address contact centre inefficiencies.
This allows organizations to gain valuable insights into employee desktop activities, rapidly uncovering opportunities to optimize processes and empower employees to meet their key performance indicators.
This is especially useful for teams with remote and hybrid employees, allowing organizations to monitor employee performance improvement regardless of employee location.
Supervisors can have a comprehensive view of all desktop user actions and activities and can modify employee coaching and training sessions to align with their productivity-related findings, focusing on areas where employees struggle and need further assistance.
Contributed by: Karen Inbar at NICE
11. Stop Relying on Your Gut Feeling… Use Data Instead!

"If you can't measure it, you can't manage it." This principle has been attributed both to Peter F Drucker (the well-respected management thinker) and W Edwards Deming (the father of total quality management).
Most contact centres monitor several KPIs. But are you measuring the KPIs that really matter, or those that your existing systems can report upon?
If the latter, that's a clear sign that you need to level up your performance analytics. Dashboards reveal performance metrics, allowing you to monitor KPIs in real time and from a historical perspective.
They enable you to make informed decisions to address inefficiencies. Sound analysis means that any changes you make to your contact centre are made on a data-driven basis, not based on gut feeling.
Contributed by: Chris Dealy at injixo
12. Use Sentiment Analysis to Identify Training Needs

Using call data analysis and customer interaction analysis you can collect and analyse data related to call volumes, call duration, hold times, and call outcomes.
These help you identify patterns, typical paths and drop-off areas as well as areas that cause high wait times or increased abandonment rates.
Sentiment analysis and speech analytics will help identify common issues and areas where agents might need additional training.
In addition to that, metrics and KPIs such as First Call Resolutions (FCR), Average Handle time (AHT), Customer Satisfaction (CAST) are presented through contact centre analytics. These reporting tools will show you where your business is thriving and where it can be improved.
Furthermore, this data can then be utilized to guide you into the world of self-service portals, conversational AI and chatbots, and by integrating these tools to handle routine enquiries, you can free up agents to focus on more complex tasks, helping to reduce work load and improve efficiency.
Contributed by: Chris Angus at 8×8
13. Automate Quality Assurance

Costly, time-consuming manual tasks, such as monitoring interactions for quality assurance (QA), is one of the top challenges contact centres face.
Many organizations are still using manual reviews, which limits the number of interactions that can be scored – often only a small percentage of total monthly call volume – and can also increase the risk of human error and inconsistent or biased monitoring.
By taking a hybrid or fully automated approach to QA, organizations can monitor and score up to 100% of interactions.
This means improving analysis, agent performance and more without strain on human resources. And existing QA employees can focus on more important, impactful tasks.
Organizations get their hands on valuable insights into agent performance – perhaps where agents are doing well or where more training or guidance is needed – patterns in customer behaviours, and more.
Contributed by: Frank Sherlock at CallMiner
14. Real-Time Performance Insight Helps Optimize Communications
Addressing inefficiencies within the contact centre can be challenging. Tech solutions can optimize and streamline operational performance. Below are a few examples:
Quality Assurance Processes
QA processes can be static and lack a meaningful, timely feedback loop, thus hindering insights and efficiency.
Implementing solutions that enable customizable forms and transparent, real-time performance insights helps optimize communications while more quickly boosting agent performance.
Leverage AI for Training

AI-powered microlearning takes the guesswork and manual aspect away from filling knowledge and skill gaps by automatically triggering new, personalized learning based on factors such as performance.
Generative AI can be used to create new frontline training materials much more efficiently (and at scale) than other methods.
Automate Coaching Tools
Automating part of the supervisor experience increases efficiency and enables more meaningful coaching conversations. This can include automatically delivering daily insights that help supervisors quickly prioritize.
Contributed by: Andrea Meyer at Centrical
15. AI Analytics Can Create Personalized Wellbeing Strategies
If you only understand what your customers are thinking, you only have half the story. What about those on the frontline eager to serve them?
If you are unaware of agent frustrations, burnout quickly follows and you risk losing your best talent to the competition. Only by understanding your customers and agents at every point of an interaction can you spot and address inefficiencies.
If you only understand what your customers are thinking, you only have half the story.
AI-driven voice-of-the-customer innovations, such as conversational analytics, analyse the sentiment of agent and customer interactions in near real time, uncovering valuable insights to drive competitive advantage.
AI analytics can also help leaders to better support frontline staff and boost human productivity with personalized wellbeing strategies and tailored training opportunities.
Likewise, AI can remove repetitive manual work and direct agents where to look for answers. As a result, human workers deal with the more interesting enquires and save time not getting lost in masses of data.
Contributed by: Graeme Meikle of Calabrio
For more great insights and advice from our panel of experts, read these articles next: