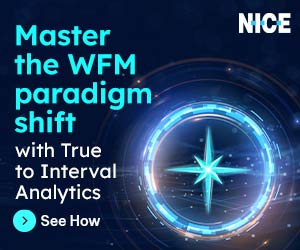 Cutting costs is a great way to improve the bottom line, but if done incorrectly, it can have a detrimental impact on service levels and overall contact centre efficiency.
We asked our panel of experts for their best advice on technology that can help cut costs and how this can be successfully implemented in the contact centre.
1. Improve Staffing Efficiency

In a typical contact centre, labour accounts for at least 70% of total operating costs. Anything you can do to improve staffing efficiency will go a long way towards reducing costs.
Micromanagement, excessive occupancy expectations, and deliberate understaffing are clearly neither desirable nor sustainable.
When it comes to controlling costs, the number-one thing you need to get right in workforce planning is scheduling.
Fixed shifts and simple rotations don't cut it. You need schedules that are optimized around demand, so that you consistently have the right number of agents on duty, with the right skills, at the right time.
Optimized scheduling eliminates periods of overstaffing and reduces the need for overtime. It also minimizes instances of understaffing, reducing agent burnout and delivering consistent customer service levels.
Today's WFM applications use AI to sift through the billions of possible shift permutations to find schedules that perfectly align supply and demand, while taking into account agent skills and preferences and constraints like working time regulations.
Contributed by: Chris Dealy at injixo
2. Use AI to Assist Quality Teams

AI can help reduce costs and create efficiencies for many businesses. Using AI to assist a quality analyst in completing the scoring and feedback will reduce the time taken in the standard evaluation process, and allow more time to be spent on coaching and developing agents.
This creates a more efficient environment for quality analysts and will lead to stronger employee development.
Employees who feel like you are investing in them will ultimately stay with a company, which reduces the costs of hiring and training. And employees that feel empowered to be successful will create better customer outcomes.
Contributed by: Chrissy Calabrese at Playvox
3. Identify Pockets of Available Time

It's very difficult to cut costs without feeling the impact. But technology identifies pockets of available time and repurposes it for offline work, meaning you're more productive – and could be conducting agent training for 'free'.
When you don't have to overstaff to cover meetings and development sessions (because you've used quieter periods in the day when agents would have been idle), you reduce the cost of shrinkage and cost to serve.
Contributed by: Nick Ashmore at QStory
4. Automate Tasks to Free Up Agent Time

There are multiple ways of looking at this, but with the tools call centres now have, perhaps it's time to reframe how we look at contact centres – seeing them not as a cost, but as something else.
Technology like conversational AI and chatbots can be used to quickly resolve or assist agents with resolving repetitive and mundane requests, while conserving the contact centre's most valuable resource, live agents, for more complex operations.
But this doesn't mean contact centres need to reduce their staffing levels. Instead, it's an opportunity for them to do more and bring in further benefits to the business and take productivity to new levels.
Contributed by: Chris Angus at 8×8
5. Identify Areas of Improvement From Customer Conversations
Brand loyalty can no longer be taken for granted and contact centres need to work harder to attract and keep the best talent.
For today's time-and-cash-strapped operations, hiring more people is neither a viable option nor the most effective recruitment strategy. It is far better to take an 'achieve more and regret less' approach using technology to keep agents and customers happy.
Using conversational analytics is an effective way to learn what customers are saying and help cut costs.
The technology yields three distinct benefits:
Quickly identifies opportunities for customer self-service.
Rapidly uncovers new and better training opportunities for agents.
Real-time capabilities facilitate intervention during a live interaction to put agents back on the right track to convert or retain customers.
Save time and money by using conversational analytics to spot issues, smooth friction points, and empower agents to make a real difference to service levels and all-round contact centre efficiency.
Contributed by: Paul Day at Calabrio
6. Don't Use Tech to Just 'Cut Costs'
There's cost efficiency, enhanced performance, driving value, improving satisfaction, and retaining customers.
Technology can do all this, but can it actually cut costs in a quantifiable way? To get the full spectrum of benefits you need to invest time and money and use the right strategies.
Correct implementation of innovative tech should result in long-term improvements, service evolution, and the augmentation of human service delivery. Double-check your reasons, strategies, and commitment.
7. Use Technology Alongside Agents
Aggressively pushing self-serve options and reducing agent numbers might seem like a quick cost-saving solution, but it's neither ethical nor sustainable.
Losing experienced agents and later having to compete for, recruit, and train new ones, along with a decrease in customer satisfaction, incurs a difficult-to-quantify yet significant cost.
Aggressively pushing self-serve options and reducing agent numbers might seem like a quick cost-saving solution, but it's neither ethical nor sustainable.
Particularly during times of financial strain, research indicates that the complexity of routine queries tends to increase, leading more people to seek assistance over the phone.
The solution, therefore, is to optimize agent utilization through intelligent workforce management, maximizing employee value.
Additionally, AI can work alongside agents, offering suggestions for next steps with a customer query, and promoting cross-selling and upselling, instead of simply replacing them.
For example, in financial services, this collaboration can enable agents to provide appropriate affordability recommendations to customers facing economic difficulties, potentially reducing future debt collection expenses and time contacting agents.
Contributed by: Finlay Macmillen at Odigo
8. Focus on the Harmony of Your Technology

It's tempting to think that lumping all your contact centre tech into one do-it-all solution will save time and money.
But here's the thing: it's rare to find one provider that's genuinely top-notch at everything — be it WFM, QA, or helpdesk tasks.
On the surface, tech stack consolidation seems like a shortcut to cost savings and efficiency, but you might end up grappling with more manual tweaks, a slip in your service quality, and probably a headache too.
In our fast-paced world, what you really need is a toolkit where each piece meshes perfectly with the next. It's all about getting the best tools for the job and ensuring they play nice together. By focusing on the harmony of your tech rather than just bundling it all up, you can genuinely save costs and keep your service top-tier.
Contributed by: Briana Tischner at Assembled
9. Invest in Employee Experience

Motivating and improving contact centre agent performance is on the top of the agenda for every customer service department, but most aren't doing enough to drive employee satisfaction.
Many agents handle high volumes of requests, with little constructive feedback for improvement.
The result is high turnover and low morale, with organizations having to absorb the costs of replacing lost agents and their productivity.
One way of alleviating this is by supporting agents with data-driven feedback – giving insight into successes and areas for improvement, which allows agents to build their knowledge faster, reducing attrition, and improving job satisfaction.
With the support of technology, such as AI-powered conversation intelligence, real-time guidance and coaching can improve agent performance in-the-moment and create a better employee experience.
When agents feel fulfilled and supported in their roles, they are more likely to stay, driving costs down through talent retention and efficiency.
Contributed by: Frank Sherlock at CallMiner
10. Move Away From On-Premise Technology

Implementing a cloud-based CCaaS platform can greatly reduce the cost of CX operations.
By moving operations from a multiple, legacy on-premise technology to an open, cloud-native platform, businesses no longer have to purchase expensive hardware, which also saves time and money on costly installation and maintenance.
Cloudifying CX operations also increases efficiency across the board. Teams can easily share and access information across the organization, improving workflows, and leading to better customer experience outcomes.
Moving to an open cloud platform housing a suite of solutions also simplifies an organization's often complicated and costly tech stack.
Contributed by: Andy Traba at NICE
11. Improve Your Forecasting
You can have a contact centre that delivers great customer experience. You can have a contact centre that's a great place to work.
You can have a low-cost contact centre. But can one contact centre be all three of those things at the same time? Workforce management (WFM) makes that possible.
WFM enables accurate forecasting, allowing you to anticipate peak hours and allocate resources accordingly. By having the right number of agents during high-demand periods, you reduce the need for overtime.
WFM optimizes staff schedules by aligning agent supply with customer demand. This prevents overstaffing and unnecessary labour costs while maintaining service quality. WFM facilitates agent schedule adherence and optimizes shrinkage and occupancy.
Real-time dashboards allow timely and effective adjustments to schedules, helping maintain customer experience.
WFM not only enhances service quality and agent wellbeing but helps drive down costs. You can have your cake and eat it!
Contributed by: Chris Dealy at injixo
12. Scale Up With the Cloud

Successful contact centres invest in cloud-based tech as a tried-and-tested way to scale customer service quickly and at minimal cost.
What is more, transitioning to the cloud while maintaining business as usual is quick and easy without having to hire additional IT staff or invest in expensive hardware.
Combine cloud-based solutions with automated workforce management to empower remote and hybrid teams.
Agents simply log on at any time and from anywhere to stay connected with colleagues to check shifts and state preferences, submit time-off requests and learn new skills while still responding swiftly and efficiently to customers.
Meanwhile, contact centre leaders are able to make changes to agent schedules throughout the day in response to fluctuating volumes, reducing the cost of overtime or additional shifts. Having the latest technology is also a great way to recruit and retain staff.
Contributed by: Paul Day at Calabrio
13. Evolve Your IVR to Improve Services
By introducing natural language understanding into an IVR system, numerous efficiencies and a reduction in the cost to serve on many people's channel of choice is possible.
With more accurate identification of intent, as opposed to pigeon-holing via numerical options, a conversational IVR can collect data on contact drivers, informing and evolving self-serve strategies, as well as providing more detail to agents.
It is also possible to provide a more intuitive range of self-serve options to deflect willing customers from the call queue, which can be further enhanced with voice biometrics or automated ID&V to elevate AI use of customer data.
14. Improve Digital Channels

Whilst voice is still the most popular channel for many customers, younger generations often prefer or are more confident using digital channels.
Of course, digital can mean self-service and agent-assisted asynchronous channels which can decrease the cost to serve.
Agents can handle multiple queries, providing contextual problem-solving in situations where a customer may not be able to voice their problems concretely enough for an automated interaction.
Retention of interaction history and access to customer details all promote personalized care and the reassurance of agent advice while minimizing cost.
Often, even greater efficiency is achieved by opening the conversation with a bot, to filter out straightforward issues and escalate appropriate queries to agents.
Contributed by: Finlay Macmillen at Odigo
15. Remove Manual WFM Processes
Rather than focus purely on cost-cutting, take a longer-term view by measuring the return on your technology investment.
When used correctly, few contact centre solutions can outperform workforce management (WFM) in terms of ROI, while simultaneously transforming productivity, enhancing employee engagement, and vastly improving customer service.
Take a contact centre with 600 agents each costing £1,600 a month. By ditching traditional manual processes such as spreadsheets and going digital with WFM, it takes just a few months to recoup the original investment.
By our own calculations, this equates to total monthly cost savings of nearly £64,000 or 6.65% of staffing costs plus efficiency improvements of between 3% and 10% through optimized scheduling and adherence.
Adding agent empowerment tools such as self-scheduling boosts employee satisfaction and productivity further, with time saved from unplanned absences, along with reduced recruitment and training costs. What's not to like?
Contributed by: Paul Day at Calabrio
16. Implement AI-Powered Self-Service Technology

Contact centres face ongoing challenges of cost-cutting without sacrificing service quality. AI-powered self-service technology, including intelligent virtual agents (IVAs), revolutionizes this balance.
AI-driven self-service offers substantial cost savings. By automating repetitive tasks, it lightens the load on agents, significantly reducing operational costs. Its natural language processing (NLP) capabilities transform interactions, making issue resolution faster and more efficient.
These solutions operate 24/7, ensuring uninterrupted customer support without increasing staffing expenses.
They also excel in boosting first-contact resolution rates, minimizing the need for follow-up interactions.
To fully harness the benefits, a strategic approach to implementation is essential.
Start by assessing existing processes and defining areas that can be automated.
Select the right technology solutions and implement little by little.
Continuously monitor data-driven insights and customer feedback.
Ensure robust change management, stringent data security, vendor support, and scalability.
With the right strategic approach, AI-powered self-service technology empowers contact centres to reduce costs, while also elevating service quality.
Contributed by: Jason Griffin at Five9
17. Improve Query Resolution Time

Technology can be used in several ways to reduce costs while maintaining contact centre efficiency.
Implementing emerging technology such as chatbots can automate routine tasks and enquiries, leading to faster query resolutions and reduced reliance on human agents.
This cuts down labour costs and ensures that customers receive quick responses 24/7, improving overall service.
Interactive voice response (IVR) systems help to direct calls to the right department or self-service options, reducing the workload on agents and improving call routing efficiency, translating into shorter wait times and more satisfied customers.
Alternatively, technology such as speech analytics can be used to analyse customer interactions for sentiment and identify trends as well as training needs, helping contact centres refine their processes, cut costs, and improve customer experiences.
Contributed by: Ben Booth at MaxContact
For more great insights and advice from our panel of experts, read these articles next: