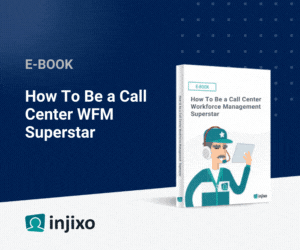 Efficient workforce management (WFM) is vital for contact centres to optimize staffing, scheduling, and resource allocation.
In this article, we will showcase several leading WFM products available in the market in 2023 – along with some of the key features, strengths, and unique offerings of each solution.
The Top Workforce Management WFM Solutions
Here are several leading WFM products available in the market in 2023, all in one place, to help contact centre decision-makers begin their journey towards making an informed choice about their workforce management solution, enhance operational efficiency, and deliver exceptional customer experiences.
---
NICE offers a comprehensive WFM Suite to accurately account for the entire WFM lifecycle – from long-range planning with Enhanced Strategic Planner (ESP) to intelligent intraday automation with Employee Engagement Manager (EEM).
Utilizing over 40 advanced algorithms, rule-based actions, and automation, NICE ensures accuracy for the business and agility for their agents.
---
Genesys WFM provides an end-to-end solution for workforce management.
The forecast capabilities include 25 machine-learning-trained models for automated workflows that allow you to forecast ahead two years.
The scheduling processes have automated shift allocation and flexible work rules to manage overtime, time-off approvals, and shift-swaps.
Employees can view schedules, submit time-off requests, and manage their own time from their smartphones.
---
Calabrio (formerly Teleopti) is known for its user-friendly and intuitive WFM solution.
The system offers powerful predictive forecasting and automated scheduling to handle complex, multiskill scheduling optimization.
Their solution automatically harnesses historical data to adapt for contact spikes and lulls.
It responds to dynamic surges with intraday scheduling tools to help maintain optimum staffing levels.
---
injixo is a cloud-based WFM solution that combines cutting-edge functionality, a team of highly committed experts and instant, seamless integration with leading contact centre platforms.
Powerful and easy to use, injixo covers the whole planning cycle from AI-driven, automated forecasting to scheduling, intraday management and employee self-service via a smartphone-friendly agent portal.
Used by many enterprises of all sizes, injixo is a workforce management platform with all the software, comprehensive API integrations and resources you need to optimise your WFM process from start to finish.
---
Assembled is a next-generation WFM solution that empowers support teams of all sizes to make accurate, scalable staffing decisions while optimizing productivity with real-time performance data.
Options for the additional vendor management offering give CX teams visibility into staffing, real-time metrics, and productivity across their BPO network.
---
Playvox WFM is a cloud-based solution, leveraging AI to make capacity planning, forecasting, employee scheduling, and intraday planning easy, accurate, and less time-consuming.
The solution empowers users to get a real-time view of planned vs actual staff for every location and work type. It also enables users to plan, forecast, and schedule agents for multi-step interactions with AI-powered foresight, helping to keep budgets on track.
---
Verint
Verint provides a comprehensive suite of WFM solutions, including workforce forecasting, scheduling, and real-time adherence. The scalability makes Verint suitable for large contact centres.
With advanced forecasting algorithms, Verint optimizes agent coverage and reduces staffing gaps. It also has a useful schedule adherence tool that is well-liked by users.
---
Alvaria
Alvaria (formerly Aspect eWFM) offers a robust WFM solution with extensive forecasting, scheduling, and adherence features.
Alvaria Workforce Management addresses many business problems, such as administration, scheduling, forecasting, reporting, and adherence. It also allows for schedule testing – to test your proposed schedules against various forecasts.
---
Niche Players
QStory specializes in intraday automation. Their real-time adherence features enable supervisors to monitor agent activities and make immediate adjustments. It is particularly well-liked for its easy-to-manage shift-swap and holiday management processes.
Intradiem
Intradiem also specializes in real-time automation and intraday management. Their platform enables contact centres to dynamically respond to changing call volumes, prioritize tasks, and allocate resources effectively. Intradiem identifies time for development and builds this into their shifts using automation tools.
Community WFM
Community WFM offers a cloud-based WFM solution with features such as forecasting, scheduling, and performance tracking. It has an Automated Schedule Attendance Monitor that users like, as well as a mobile app for agents.
UJET
UJET provides a cloud-based contact centre solution that includes WFM capabilities. Their WFM features enable contact centres to forecast demand, create optimized schedules, and monitor adherence. The scheduling module allows agents to pick their schedule based on availability and skill set, or a combination both. UJET also has an alliance with Google Cloud.
Pipkins
Pipkins has a pedigree in forecasting and scheduling that goes back over 40 years. It offers a comprehensive WFM solution with advanced forecasting, scheduling, and real-time adherence features. Their platform is known for its scalability and customization options.
ActiveOps
ActiveOps offers a WFM solution that provides comprehensive functionality for forecasting, scheduling, and managing workloads across various departments and teams. It incorporates features like real-time monitoring, performance tracking, exception management, and capacity planning.
☆☆☆☆☆
Systems Integrators Specializing in WFM
Call Design
Waterfield Tech
SVL
WFM Solutions Included as Part of a Wider Product Set
If you are looking for more information on WFM solutions and what you should look for, read these articles next: