In a service environment, the language that we use has a huge impact on customer emotions. In a sales environment this is even more critical.
Positive words have the power to convey kindness and uplift the tone of your advisors' conversations. They can also help to strengthen your contact centre's signature response and opening gambit, when used daily by all advisors.
This is highlighted in this video from Sandra Thompson about the importance of being conscious about the words you say to the customer:
Looking for some positive spiel to help brighten up your customer conversations? Here we have put together a list of positive words and phrases for your advisors to use.
Want some quick wins to get you started? Here's a printable sheet of positive words and phrases your teams can begin using today.
The Top 25 Positive Words for Customer Service
These little words should win medals, as adding any one of them into a conversation has the potential to transform average customer service into great customer service.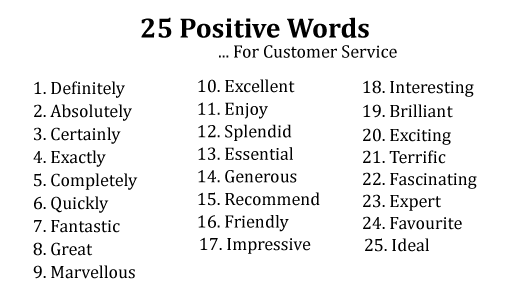 | # | Positive Word | # | Positive Word | # | Positive Word |
| --- | --- | --- | --- | --- | --- |
| 1 | Definitely | 10 | Excellent | 19 | Brilliant |
| 2 | Absolutely | 11 | Enjoy | 20 | Exciting |
| 3 | Certainly | 12 | Splendid | 21 | Terrific |
| 4 | Exactly | 13 | Essential | 22 | Fascinating |
| 5 | Completely | 14 | Generous | 23 | Expert |
| 6 | Quickly | 15 | Recommend | 24 | Favourite |
| 7 | Fantastic | 16 | Friendly | 25 | Ideal |
| 8 | Great | 17 | Impressive | | |
| 9 | Marvellous | 18 | Interesting | | |
Examples of These Positive Words in Customer Service
We have put together some examples of these positive words in action that can be used in customer service conversations:
I will

definitely

make sure that it gets sorted…
I

absolutely

agree with you…
I can

certainly

help you…
That is

exactly

right…
I

completely

agree with you…
I will

quickly

run through this with you…
That is a

fantastic

way to look at it…

Great

news!

Marvellous

choice…
That is an

excellent

suggestion…
I hope you

enjoy

your…

Splendid

! All that is left to do now…
Yes, it is

essential

that you do this today…
That is a very

generous

offer…
I can highly

recommend

…
Thanks, we try our best to provide a

friendly

service…
That's

impressive

, Mrs Smith…
That it is an

interesting

idea…

Brilliant

! I'm glad I was able to sort that for you…
Yes, it is an

exciting

and popular new service…
I think that's a

terrific

option…
That is

fascinating

…
You certainly are an

expert

on this…
That is personally my

favourite

option…
It would be

ideal

, considering your situation…
Positive Words on Display in the Contact Centre
We received a great example from a contact centre in the Philippines of how they printed our lead image on their contact centre walls, as shown below: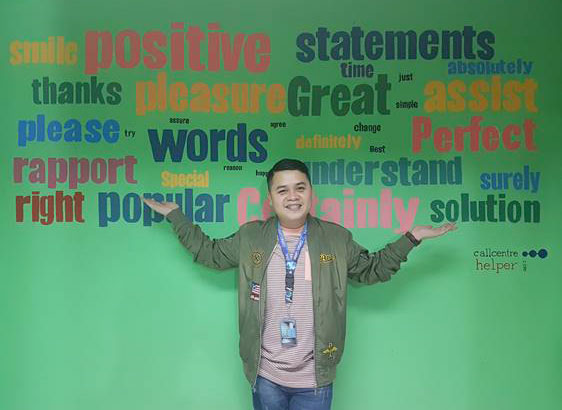 Closer to home, we have also seen other contact centres do this. Neopost's contact centre in Romford was one such contact centre, using some of our words on their contact centre walls, like so: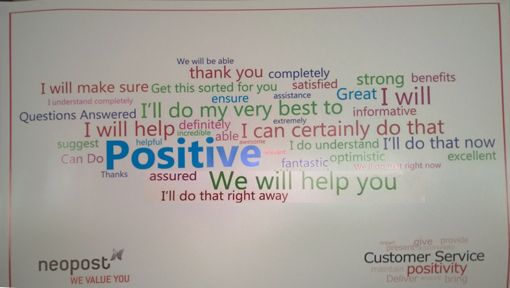 The Top 25 Positive Phrases for Customer Service
There are so many phrases that work well in customer service, but knowing when to use the best statements can be tricky.
So, here we give 25 positive phrases to use at specific parts of the call, with different options suggested for each.
Positive Phrases for Greeting the Customer
In our article, "The Best Customer Service Greeting Phrases – with Examples", our readers found the following two greeting statements to be the most effective in "kicking off" a positive customer service interaction:
"Welcome to [INSERT COMPANY NAME] Customer Service. My name is [INSERT NAME]. How can I help you?"
"Good morning/afternoon! You're through to [INSERT COMPANY NAME]. My name is [INSERT NAME]. How may I help you today?"
Positive Phrases When More Information Is Needed
Staying upbeat when needing more information from the customer is a valuable skill.
However, if an advisor struggles to do this, encourage them to ask basic questions of the customer, while scattering in some of the positive words discussed earlier.
For example, advisors could use the following positive phrases when more information is needed from the customer:
"So, what I understand so far is… it would be great if you could tell me a bit more about…"
"For me to… it would be brilliant if you could give me just a few more details on…"
Positive Phrases for Acknowledging the Customer
We have previously quizzed our readers on their favourite acknowledgement statements to improve customer-advisor interactions, in our article "The Top 12 Acknowledgement Statements for Customer Service".
The top three positive phrases for acknowledging the customer are highlighted below:
"I realize that this situation is difficult, but let's try and find a solution."
"I would feel the same in your situation, but we will sort this out…"
"I'm sorry you are having this problem. Let's see if there is anything we can do to help the situation."
Positive Phrases for Reassuring the Customer
Once the advisor has a good understanding of the customer's problem, and has acknowledged their concerns, it is now important to reassure them. Positive wordplay can be key here.
Take a look at the following examples of how positive statements can be used to reassure the customer:
"Thanks, it is great that you alerted us to this."
"You are absolutely correct. Let's look into this."
"Definitely, I will make sure that this gets resolved for you."
Positive Phrases When Giving Instructions
When giving out over-the-phone instructions, it is an advisor's role to make the process as easy as possible.
So, it is good practice to try and weave the following positive statements into conversations, to help the customer get from A to B with a smile on their face.
"All you need to do is to just…"
"A simple way / method to change it will be to…"
"As soon as you receive…"
Positive Phrases When Being Courteous
Courtesy and positive language go hand-in-hand, as we discussed in our article: "The Best Courtesy Words and Phrases to Use in Customer Service". After all, old-fashioned courtesy is a must for any service or sales team.
So, advisors should ideally be using positive statements like those below:
"Would you be happy for me to put you on hold for a minute or two, while I quickly retrieve your details?"
"I will send over the link to the email address that we have on our system and, if you would like, I can go through the rest of the process with you."
Using positive words to give compliments is another great way to be courteous. Find out more by reading our article: 50 Great Complimentary Words to Use in Customer Service
Positive Phrases For Building Rapport
Using positive small talk is great for rapport building.
Therefore, advisors could try dropping some of the following positive statements into the conversation during these moments.
"What I'm doing for you now is…"
"Don't worry, I often make that mistake myself."
"How is the weather where you are today? Better than here, I hope!"
To find more examples like this, read our article: Best Tips, Phrases and Words to Use for Building Rapport
Positive Phrases for Handling Angry Customers
Advisors are often told to try to stay positive when interacting with an angry customer. However, that is much easier said than done, especially if the advisor is having to deal with such a caller for a long period of time.
So, the focus should instead be on getting the frustrated customer to change their mood. The positive phrases below could help to do this:
"We always value customers who are keen to give us their feedback. I will be sure to pass on what you have told me to our managerial team…"
"I recommend that you (INSERT ACTION), Mrs Smith, so that I can take further action without delay."
Other phrases to use when speaking with an angry customer can be found in our article: The Right Words and Phrases to Say to an Angry Customer
Positive Phrases for Closing the Call
So, the advisor has successfully helped the customer to solve their query, given them a quick summary of the call and explained the next steps. All that is left to do is finish with a positive call-closing statement.
We've found some great examples of these in our article: "The Best Call-Closing Statements", with two of them being showcased below:
"Thanks for calling, and if you have any additional questions, please call us."
"Have a nice time in [INSERT PLACE NAME] on your holiday."
Positive Phrases for Making a Sale
While dealing with a customer complaint, it may also be part of an advisor's job to "sell-up" other areas of the business.
Here are some useful phrases to help an advisor seal the deal – taken from our tips for selling over the phone article:
"We have a variety of…"
"It's a wonderful service where instead of…, you can…"
"This is the best plan/scheme for you…"
★★★★★
Phrases to Avoid
There are also situations where using positive language is contradictory to how you are trying to make the customer feel – and should be avoided.
There are some good examples here, typically heard on IVRs or when an advisor needs to put a customer on hold:
Would you LIKE to continue to hold?
Your call is IMPORTANT to us
Your call MATTERS to us
They sadly come across as disingenuous when the contact centre isn't delivering the high standards of service customers expect.
★★★★★
A-Z of Positive Words:
Here are even more words for you to add into your positive call centre scripts, as well as their handy definitions:
| Word | Definition | Word | Definition |
| --- | --- | --- | --- |
| Accessible | friendly and amicable to talk with | Proactive | acting in advance to deal with an expected difficulty or change |
| Approve | officially agree to or accept as satisfactory | Promising | showing or having the possibility of achievement or excellence |
| Assure | tell someone something positively to dispel any doubts | Quick-witted | mentally sharp, nimble and alert |
| Best | surpassing all others in quality or excellence | Quirky | merry and unconventional |
| Clever | possessing quickness of intellect | Razor-sharp | extremely sharp; quick-witted or very clever |
| Definite | free from doubt | Recommend | worthy of praise or to be recommended |
| Delightful | bringing pleasure | Reliable | trustworthy |
| Excellent | of the finest or highest quality | Remarkable | worthy of notice or consideration |
| Fab | extremely pleasing | Resourceful | having the ability to find clever and quick ways to overcome difficulties |
| Genuine | authentic | Respectable | worthy of respect or high esteem |
| Goodhearted | generous | Sagacious | acutely wise and insightful |
| Greatest | highest in quality or size | Savvy | well-informed, perceptive or shrewd |
| Impeccable | flawless | Self-assured | showing or having confidence and poise |
| Insightful | having or showing insight | Sensational | exceptionally good |
| Inspiring | encouraging | Sincere | genuine |
| Jolly | full of good humour and merry spirits | Snappy | energetic |
| Keen | intellectual quickness | Stellar | exceptional |
| Kind-hearted | having a friendly and cheerful disposition | Teeming | productive |
| Knowledgeable | intelligent | Tender-hearted | having a great sensibility and kindness |
| Legendary | extremely popular | Thoughtful | demonstrating careful consideration or thought |
| Lovely | full of love | Thriving | very profitable and lively |
| Magnificent | splendid or elegant in appearance | Timeless | classic and always in style |
| Mindful | attentive | Tolerant | tending to accept, allow, permit or understand something or the existence of something |
| Moving | capable of arousing deep emotion | Trailblazing | innovative |
| Nifty | very good | Upstanding | respectable |
| Noble | showing or having qualities of high moral, rank or dignity | Vibrant | lively and bright |
| Obliging | showing readiness to do favours to others | Visionary | one who has visions or positive ideas about the future |
| Observant | paying close attention to details | Vivacious | animated and lively |
| Open-hearted | kind and generous | Warm | kind and caring |
| Open-minded | ready or receptive to new and different ideas | Whimsical | playful and amusing |
| Optimistic | disposed to take the most favourable or hopeful view of the matter | Wholehearted | unconditional commitment |
| Orderly | systematic | Witty | clever and funny |
| Outstanding | prominent or noticeable of others of its kind | Wizardly | remarkable in performance, execution or design |
| Passionate | having or showing powerful emotions | Wondrous | extraordinary |
| Patient | calm during difficult situations | Worldly | very sophisticated |
| Peachy | splendid | Xenial | hospitable to others |
| Peppy | cheerful and vigorous | Yay | an expression of approval and excitement |
| Perceptive | having or showing ability and keenness of perception | Yes | an affirmative answer or decision |
| Persevering | constant in the execution of a purpose | Zappy | energetic and lively |
| Persistent | refusing to give up | Zealous | having or exhibiting strong enthusiasm or passion |
Have you discovered any other positive words and phrases that work for you?
Found this article useful? Why not also have a look at: