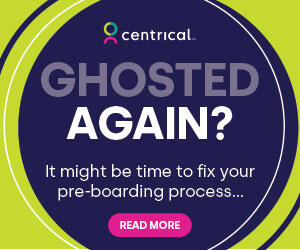 With many contact centres facing staffing challenges, it's more important than ever to embrace the help of technology.
So we asked our panel of experts for their best ideas on how technology can be used to alleviate the pressure of staffing shortages.
Systems to Support Staff Onboarding and Development

Contact centres face many challenges, including high attrition. Attrition causes gaps in the frontline, and teams struggle to keep up.
But investing in the right technology can help. Below are a few key areas to look for in an onboarding and development solution:
Accelerated Onboarding
Connect new agents with their roles and the enterprise and provide personalized learning that accelerates the time to proficiency.
Continuous Learning
Well-trained employees work more efficiently and are better able to pitch in and help their colleagues. Modern options such as microlearning can be completed in minutes per day within the flow of work.
Simplify Coaching
Managers have their hands full. Simplify their coaching process with at-a-glance performance metrics and guided actions.
A gamified platform can help cut attrition rates while improving employee productivity and proficiency with AI-powered learning, augmented coaching, and much more…
Contributed by: Andrea Meyer at Centrical
Intelligent Virtual Agents Can Fill the Gaps

Intelligent virtual agents are a cost-efficient solution that help fill the gap for understaffed call centres, while delivering high-quality service.
With contact centres finding it increasingly difficult to recruit and retain experienced staff, it is vital to ensure agents are able to focus on what they do best – resolving complex interactions that require their human experience, empathy and judgement.
Intelligent virtual agents work alongside your existing agents, using natural language capabilities to perform processes such as caller authentication and data collection, self-service automation for tasks such as appointment bookings and order management.
They can also ensure that customers are always connected to the correct department. In addition, they offer these capabilities 24×7 and are easy to scale up for peak seasons or during unplanned high call volumes.
The adoption of artificial intelligence and automation solutions can help augment, improve and scale the capabilities of your entire contact centre team.
Contributed by: James Mackie at Five9
Real-Time Analytics to Make Faster Decisions

Contact centres continue to experience high employee turnover and burnout, yet a key defining factor of customer satisfaction remains whether their issue was solved during a single interaction with a brand.
One way to alleviate the increased workload and operational pressures resulting from staffing shortages is utilizing technology that can help your agents make better and faster decisions while a conversation is still in progress.
Real-time analytics can analyse 100% of customer conversations and provide in-call guidance to help agents steer interactions in the right direction, lowering AHT and increasing first call resolution.
By analysing data the moment it's collected – such as a conversation in a contact centre – organizations can take immediate action to drive better customer outcomes, as well as identify and resolve problems, such as compliance issues, before they impact business.
This can vastly reduce repeat call volumes, help balance agent workload when shortages occur, and improve customer experience.
Contributed by: Frank Sherlock at CallMiner
Intelligent Self-Service, Routing, and Available Knowledge to Reduce Pressure
Technology can bridge the gap in a short-staffed call centre by automating tasks and processes, which in turn can boost efficiency and productivity.
This also provides customers with more self-service options, which can improve customer satisfaction.
Here are a few ways technology can help:
Chatbots:

These can be used to handle standard queries like tracking an order, requesting a return, or updating account information.
They are able to handle multiple queries at once and provide customers with quick responses, improving customer satisfaction.
Call Routing and Queuing:
Automated systems can route calls to the most appropriate employee based on a number of factors, including language, knowledge and availability. This ensures customers are quickly routed to the best person.
Knowledge Bases:
These provide employees with access to a centralized knowledge base containing information about products, services, and customer issues.
This allows employees to quickly access the information they need to resolve customer queries, reducing call handling times and improving customer satisfaction.
By utilizing these tools, call centres can maintain a high level of customer service even with a reduced workforce.
Contributed by: Drew Naylor at MaxContact
Unified Desktops to Simplify the Agent Experience
Time is of the essence for contact centre staff to respond to queries. Not only is a speedy response vital to keeping customers happy, it also allows agents to swiftly move on to the next person in the queue. However, if customer information is kept in different systems, it can cause delays.
This can put added pressure on short-staffed teams. Creating a unified agent desktop, which brings every data point onto a single screen or desktop, will significantly aid the call resolution process.
Additionally, by bringing CRM and fulfilment solutions into the mix, agents have every piece of relevant information at their fingertips, such as the location of a delayed order.
Furthermore, by setting up automation triggers, when agents enter information into the desktop it can automatically update integrated systems, which removes duplication and ultimately agent time.
An AI-Driven KMS Can Feed Information to Chatbots

Providing a centralized, intelligent AI-driven knowledge management system (KMS) that enables agents to quickly retrieve pertinent, consistent information is a great way to alleviate pressure on short-staffed teams engaging with clients.
Instead of having to search through a list of dense articles, using interaction intelligence, it can retrieve specific answers from that content so agents can provide a quick resolution to queries.
An AI-driven KMS can also feed information to chatbots to better solve customer questions while the team is thin on the ground. It can also feed online enquiries, which can deflect calls from the contact centre.
Where a lack of staff may place the customer experience at risk, combining conversational AI and employee value is critical to continuing with a customer-centric focus.
Contributed by: Colin Mann at Enghouse
Automation to Remove Routine Tasks
Automation is one of the most effective solutions for improving contact centre efficiency as it offers benefits above and beyond increasing agent productivity and decreasing caller wait times.
During a staffing shortage, contact centres can rely on automation to take over some of the routine tasks that normally occupy an agent's day.
Automated systems are less likely to suffer from inaccuracies caused by human errors, leading to better outcomes and less time spent resolving complaints.
Contact centres can improve the overall customer experience by automating data retrieval processes and providing the relevant, accurate information an agent needs to provide a quick, satisfactory response.
Automated systems are less likely to suffer from inaccuracies caused by human errors, leading to better outcomes and less time spent resolving complaints. With automation, customers will reach their desired support faster than ever before.
Contributed by: Cyara
Omnichannel Options to Reduce Pressure on Voice Traffic
Reduce the pressure on voice traffic. Instead of trying to squeeze customers through an ever-narrowing call funnel, agents can also manage high-quality asynchronous channels.
It's not even a deflection tactic if the customer views it as convenient, it's a well-designed personalized service.
Asynchronous interactions can be allowed to progress towards resolution at an organic pace rather than a frantic one.
The proviso has to be integrated experiences, however. Customers don't want to repeat themselves, and should be able to switch channels when appropriate without agents losing visibility of the progress of a query.
Connected Systems for Tailored Experiences

The more tailored an experience is, the more time and effort is saved for everyone. The optimal strategy would be AI-supported services with solution integrations or APIs.
AI can help make the most of existing information about a customer and harvest more during the course of new interactions.
Everything from qualification to routing and agent prompts can all be fine-tuned using AI. What the customer experiences isn't the sense of being rushed out the door, just appropriate care.
The value of the information becomes even higher when it is seamlessly shared between solutions like CCaaS and CRM, or relevant details are appropriately highlighted for agent attention by APIs.
Proactive Outbound Contacts to Reduce Inbound Traffic
The easiest way to cope with understaffing is having fewer inbound queries! By harnessing a blend of channels and automation you can actively engage in knowledge management with your customers.
Predictable contact triggers can be managed by providing clear messaging on a channel that maximizes visibility and engagement.
Customers need to know why you are contacting them, what they should expect as a result and what is expected of them, alongside functional links to more information and additional contact details. The more informed customers are, the less they need to go looking for answers.
Contributed by: Juliet Fehr at Odigo
AI to Support Staff and Customers

AI is key to resolving staffing gaps in the digital era. It not only powers automated self-service solutions that deal with customer issues via chatbots but also supports existing staff by providing actionable automation opportunities.
Generative modelling (like what is used for ChatGPT) is the latest must-have for conversational AI in contact centres.
When this technology is coupled with historical conversational data, organizations can create exceptional automated customer experiences, delivering intelligent, human-like conversations with no agents required.
It's the next level of CX… Human-friendly automated self-service, training bots to respond and support interactions as intended – just like we train employees and agents today.
On the human side, AI is a powerful support tool that delivers actionable automation opportunities to free up time previously spent on sometimes monotonous and mundane tasks. This kind of optimization is vital for tackling staff shortages and allowing agents to focus on more impactful work.
Contributed by: Andy Traba at NICE
For more great insights and advice from our panel of experts, read these articles next: