Enthusiastic employees from Cactus Search have raised an amazing £7,850 for Birmingham Children's Hospital Charity by cycling and running a collective 509 miles in 5 days!
Inspired by a Cactus employee's 3-year-old daughter Jessica, who was diagnosed with a rare form of kidney cancer, a team of twelve colleagues pulled together to fundraise for the Oncology Unit where Jessica is being treated.
Naming their fundraising campaign 'Jessica's Journey', the team of intrepid exercisers drew up a gruelling schedule where individuals pledged to either run or cycle as many miles as they could in a week, collectively covering the equivalent distance from Truro in Cornwall to Edinburgh, Scotland.
Whilst her prognosis is good, Jessica's treatment is ongoing and she is currently undergoing intensive radiotherapy and chemotherapy on the Oncology Ward at Birmingham Children's Hospital, with treatment expected to last a minimum of 8 months.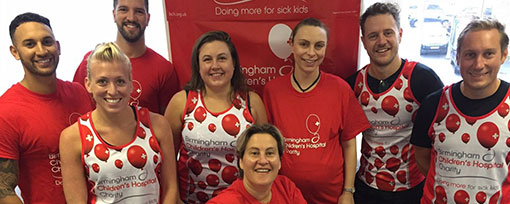 Guy Masters, Managing Director at Cactus Search, said, "We wanted to do something to support Jessica and her family and agreed fundraising for the Oncology Ward where Jessica is being treated would be an excellent way of supporting both Jessica and her family.
"Jessica's Journey went exceptionally well and we are over the moon with the amount we have managed to raise. It was a tough week but it's amazing what can be achieved when you all pull together. We want to thank our amazing supporters, all 250 of them, who helped us reach our amazing total – which far exceeded our expectations!"
Miranda Williams, Public Fundraising Manager at Birmingham Children's Hospital Charity, added: "We'd like to say a huge thank you to everyone who has supported Jessica's Journey! With special thanks to the amazing Cactus Search team who cycled or ran the arduous 509 miles and have raised such a phenomenal amount of money for our charity.
"The money they have raised will make a massive difference to the lives of our brave children and their families on our Oncology Unit, which treats hundreds of patients each year with cancer, leukaemia and brain tumours."