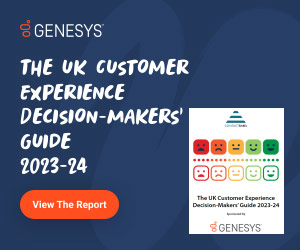 Customer experience is important, but how can companies deliver not only a great customer experience, but a personalized one?
We asked our panel of experts to find out their key steps to a more personalized customer experience.
What Is a Personalized Customer Experience?
A personalized customer experience is one that is tailored specifically to the customer as an individual, where their wants, needs, and preferences are considered and applied to deliver a personal service.
How to Create a More Personalized Customer Experience
These are our experts' key considerations for creating more personalized customer experiences:
1. Develop Customer Profiles
One of the most important parts of delivering personal customer service involves taking the time to understand who your customers are. Your company's marketing department should be able to supply demographic data and customer information.
From there, sit down with your best service reps and discuss the types of customers they commonly deal with on a day-to-day basis. In combination, this process will allow you to flesh out a series of profiles based on your typical customer's needs, wants, and expectations.
2. Create a Customer-Focused Vision Statement
Defining your customer service principles in a vision statement provides a strategic reference point. The easiest way to create a customer-centric vision statement is by focusing on key expectations identified in your customer profiles.
Once your vision statement is in place, every rep in your business should know it by heart. That way, its principles can act as guiding values for your entire service department.
3. Give Customers a Choice of Channels
Customers don't think in terms of channels. In today's hyperconnected world, they expect to access customer service in the manner they find most convenient.
It doesn't matter if it's talking face-to-face or by phone, email, social media, or live chat — customers expect your business to be there when they need you. If you're not providing an omnichannel service experience, your customers may switch to a competitor that does.
Thanks to David Evans at Vonage
4. Check In on Your Customer
It is easy to arrange a callback to check on a customer, but what about the other channels?
Truly channel-less strategies can allow a greater level of personalization to be achieved. Be proactive and reach out in a personalized way.
One way of doing that would be to send a notification to check in on the customer who accessed a knowledge resource, while another would be to use a follow-up email to ensure the client who emailed last week received the answers they needed.
By using the information you have about customer journeys, you can reach out in a timely, often automated way, which can efficiently bypass brewing frustration and prove your business is paying attention.
5. Speak Their Language
There are many situations in which customers need help in the form of troubleshooting or advice.
Of course, the right advice relies on real-time channel-less interaction histories, but more than that, it should be tailored to a customer's channel preference and communication style.
A customer who often uses self-service and is looking for answers via a chatbot on their phone may well prefer a series of interactive troubleshooting tips.
A customer who uses online services could be offered co-browsing or video chat to highlight resources and go through problem-solving steps.
Furthermore, a customer's use of technical terms can be used to share knowledge resources that better complement their understanding. This can bypass frustration and enhance customer experience, ultimately fostering loyalty and tenure.
6. Tailored Renewals
Many businesses work on a contract or renewal basis. It is common sense to reach out to a customer with a renewal offer before their contract ends. However, rather than offering the standard service with a discount for being a loyal customer, why not take it further?
Use the data accumulated about the customer's habits and needs to offer a more personalized service. Value should be focused where it matters most to the consumer, for example extra data on the tariff of a busy professional or additional screen permissions at the weekend for families with TV subscription services.
This demonstrates that businesses value and understand their customers' needs. This not only benefits customers but promotes loyalty and increased lifetime value.
Thanks to Steven Owens at Odigo
7. Reward Loyal Customers
Make sure you reward customers for being loyal to your business. Loyal customers are key not only to your bottom line but also to your brand image.
Building brand image can be an expensive and time-consuming task, but if you've built trust and loyalty with your customer base, they're more likely to share their positive experiences about your brand.
You could reward them by offering them early access to a new product related to something they've purchased before, invite them to an exclusive event tailored to their interests or even give them a birthday treat on their special day.
These personal touches will make your brand stand out in their mind and increase loyalty.
Thanks to Ben Booth at MaxContact
8. Identify the Needs and Motivations of the Customer
As much as we'd like to think that customers look forward to calling us, the reality is that often they view it as a chore. Moving away from sounding overly scripted and encouraging rapport-building completely changes the tone of conversations.
The key is to identify the needs and motivations of the customer you are speaking to – as a great customer journey looks different dependent on the individual and their circumstances.
Recognizing each customer as an individual and altering the tone, pace and language used demonstrates an investment in the customer and the outcome.
Ensure you have information to hand (that either the customer has provided during the conversation or that is based on previous interactions) as queues that can be used to build rapport and demonstrate ownership and care.
Thanks to Jo Hodge at Sensée
9. Start at the Beginning
While many leading brands have been personalizing their customer digital experience in one way or another for many years, the coronavirus pandemic saw the demand for personalized digital services rapidly increase.
Delivering a truly personalized experience throughout the customer journey should start with authentication.
After all, it's only possible to personalize an experience when it's clear who you are talking to. And nobody wants to face a lengthy authentication process with multiple knowledge-based questions and checkpoints.
Instead use biometrics to analyse many different voice and behavioural characteristics – from tone and pronunciation, and size and shape of the nasal passage, to how a customer types and holds their phone – to swiftly authenticate the customer. The agent can then immediately access their previous buying records and interactions.
Businesses are embracing such a shift towards hyper-personalization, where every interaction is relevant and based on customer needs in real time.
By analysing data from every channel using powerful AI solutions, contact centre agents benefit from a complete understanding of each customer's historical relationship and recent interactions with a brand – and this starts right from a seamless, secure and fast authentication process at the outset.
Thanks to Simon Marchand at Nuance
10. Focus on Customer Segmentation
It's been said that the only thing worse than a non-personalized experience is a personalized experience that is wrong. However, creating a personalized experience for every customer is hard and often not practical for every organization.
Organizations who are interested in personalization but may not necessarily have the resources and bandwidth to do it at scale should start with segmenting their customer base.
They can define segments by product category, journey stage or even persona, and then determine which segments represent the most significant ROI. Once identified, these valuable customers can be given contextually appropriate treatment to encourage continued business and brand advocacy.
Customizing each customer's experience with your company may not be realistic, but implementing targeted personalization with key customers is a practical way to build loyalty and trust that can be expanded over time.
Thanks to Frank Sherlock at CallMiner
11. Gather and Make Use of Customer Data
Data and accurate segmentation can be the difference between a good and bad personalization experience. A well monitored and process-driven customer relationship management (CRM) system can facilitate this.
Where customers make repeat purchases of similar items, marketing campaigns can be targeted at those groups or demographics with personalized promotions to drive more revenue.
Regional, purchase or demographic data can also be used to enhance a personalized service.
In the case of a poor experience where products or items are returned, exchanged or refunds are requested, agents can have access to this customer-centric data via a CRM, which then allows them to deliver a more personalized response or have a base from which to drive improvements as part of their conversations.
12. Seek Employee Feedback
A great way of personalizing the customer experience is to seek employee feedback. But do this at the right frequency.
Identify the agents at relevant touchpoints first – these will be the first to spot trends or patterns to help mine ideas for customer experience and personalization improvements based on customer behaviour.
A platform which facilitates agent contribution, feedback loops and constructive ideas based on frontline customer interactions in the form of something as brief as a survey or poll can help stimulate small changes that could make a significant contribution to developing a more streamlined contact centre process.
The small tweaks to personalization could be based on their pain points, repeat queries or behaviours.
Thanks to Alex Stenton-Hibbert at Business Systems
13. Don't Confuse More Personal With More Human
Typically, when we hear "more personal" we think "more human". However, we should not ignore the ways that automated solutions can help.
Intelligent virtual agents can access a vast amount of caller information, from multiple sources, and much faster than a human. Using the flexibility of conversational-style interactions, the entire routing journey can be crafted to a customer's needs.
It starts with simply greeting customers with their name, identified from their phone number, email or other identifier. Then the virtual agent can review their account and recent activity.
For example, is the customer currently overdrawn? Have they made a recent purchase? Have they recently sent an email? The virtual agent can then make intelligent, proactive suggestions ("Are you calling about your recent order?") or continue a conversation ("I'll connect you back to Jim").
Not only does the customer feel understood and valued, they get the help they need even faster!
Thanks to James Mackie at Five9
14. Focus on Key Areas
Businesses have put an increased focus on digital communication channels to continue engaging, serving and supporting their customers.
As a result, there has been an explosion of digital touchpoints across the customer journey.
To continue to improve the customer experience (CX) businesses need to focus on:
Data-driven personalization: Personalization is key to making customers feel seen and heard. McKinsey found that 80% of consumers want personalization from retailers.
To ensure they're on the front foot when it comes to personalization, businesses should use data to drive proactive services, for example alerting customers that their favourite product is back in stock, as a way of developing brand loyalty.
Real-time interactions: The convenience and accessibility of digital engagement channels have made customers more demanding than ever.
They want timely support, 24/7. As organizations continue adapting to the new hybrid workplace, it is imperative that they provide great first impressions while maintaining real-time interactions.
Rather than having teams optimize in isolation, it's better to bring them all together on an integrated platform, so that they can drive customer experiences from start to finish.
Only by breaking customer data out of silos and creating an integrated, holistic customer experience will organizations be able to unlock the insights they need to create truly seamless, end-to-end, long-term customer connections.
Thanks to Mayur Pitamber at 8×8
15. Let Customers Interact on Their Terms
Presenting customers with a variety of different ways to connect with your business allows them to choose how they want to interact on their terms.
They may want to speak to someone over the phone, or alternatively might be out and about and prefer a quick-fire conversation via SMS.
By providing customers with a variety of communication channel options, you're allowing them to personalize their experience to suit their needs.
You could take this further by combining omnichannel with advanced data and profiling to segment audiences more effectively. This allows you to communicate proactively and serve customers based on their likes and dislikes.
Thanks to Sean McIver at MaxContact.
16. Digital Channels Need to Be Tailored
Digital channels have forever changed the nature of a customer journey and the customer experience. With so many support channel options, customers often use a blend during a single transaction.
A customer may begin their journey by searching for answers on Google, visiting a web page, interacting with your chatbot, and switching to chat or phone support.
Customers need you to be able to see their journey and all the different avenues they have used, so they do not have to repeat themselves.
They want a seamless flow of their information throughout their resolution journey, eliminating the need to repeat information and enabling every channel to provide a satisfying, personalized customer experience.
Tailored interactions in your contact centre aren't confined to purchase journeys only; they play a prominent role in delivering satisfying support interactions.
17. Empower Your Employees With Information
Personalization is a meaningful business differentiator, and like all significant business initiatives, it requires investment.
Contact centres need modern technology to analyse vast quantities of customer data in real time and provide the omnichannel capabilities required for seamless digital customer experiences.
Artificial intelligence is uniquely suited to help organizations scale their personalization efforts.
AI tools are specifically made to consume vast amounts of data and make predictions based on the patterns it identifies.
Effectively scaling personalization without AI would be impossible. For example, your customer calls in, and your agent can see the customer's purchase history, items left in the cart, previously viewed items, and preferred channel of choice.
The agent is equipped with this customer's information, history and preferences without asking a single question. The agent can focus on their soft skills, cross-sell/upsell, and deliver a truly tailored interaction with that customer.
Thanks to Tyler Butterfield at NICE CXone
18. Be Available Around the Clock
Your customers are busy and want to interact with your business on their terms, exactly when they want. While your teams can't be available 24/7, using automation can help customers to interact with your business in a way that's personalized to them.
Whether they're looking for information, requesting a callback, choosing marketing preferences or making a payment, chatbots and interactive voice response (IVRs) let customers interact with your contact centre without waiting for an agent.
With an estimated 67% of customers preferring to use self-service options, automation really is a no-brainer in offering customers communication preferences that suit their personal needs.
Thanks to Drew Naylor at MaxContact.
19. Reduce Routing Friction
Memorable CX experiences come from the relationships customers have with businesses that understand them.
As a result of today's on-demand economy, the expectation is that businesses should provide an extraordinary experience across every single channel.
Agents can benefit from personalization too. By knowing their customers and having insights into their sentiments, agents can enter a conversation knowing exactly how they're feeling and be able to potentially defuse an otherwise hostile encounter.
Customize voice options to ensure callers reach the right agent. Even as digital channels and self-service become the first-choice channels for many customers when it comes to complex interactions, many still tend to prefer voice as a communication channel.
AI-based interaction analytics and routing technology can pair customers with the best agent who can resolve the issue, rather than starting with a generic response tree.
Thanks to Sharon Einstein At NICE
20. Allow for Communication Preferences
A third of consumers prefer to see all customer service done through self-service. Increasingly, consumers are not giving brands a second chance.
It has become imperative for companies to respond to the growing consumer desire for digital and traditional channels for a multichannel customer experience.
The ability for brands to be agile underscores the need for agile and future-proof technology with fail-safe functionality that can adapt to customer service demands. The ability to interact using the method of their choice is the most important facet of a personalized experience.
This is a direct correlation with the ability of your business to provide an omnichannel customer experience. A customer who can set communication preferences and have the company respond according to those preferences is much more engaged and satisfied.
21. Get Customer Feedback
One of the clear opportunities for brands to increase the efficacy of customer experience is personalization. Ultimately, customer satisfaction is predicated on results. Whether that customer service interaction is performed by a chatbot or a live agent, resolution is critical.
Testimonials and endorsements used to be reserved for paid actors and actresses, but with the rise of social media, any of your users can now act as brand ambassadors or evangelists. There's tremendous value and credibility in demonstrating the real-world applications of your product.
Letting your users tell their story through your product is informative, entertaining and authentic. Give your users a chance to connect through user groups, video testimonials or even good old-fashioned surveys.
Your customers will look much more favourably on a business that can adapt with new technology, expanded self-service and inbound options and can demonstrate the value of their clients.
Thanks to Bruce Skjolde at Alvaria
Read these articles next to discover more great insights from our panel of experts:
How to Deal With Frustrated Customers – And Make Them Happy