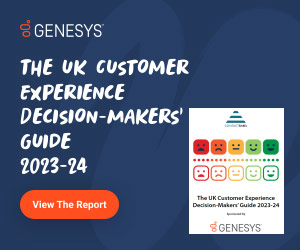 The votes are in and what a response!
In the end we had a grand total of 1,448 votes cast for a whole variety of characters in our call centre industry.
It's a real testament to the professionalism of call centres across the board.
Read on to find out who the Top 10 are and to view many of the comments that we received….
1. Martin Hill-Wilson
Strategy Director, Datapoint
"One of the sharpest minds in the business."
"Martin's ability to de-clutter the contact centre world and help ordinary people understand what is quite a unique operation is exceptional."
"Exceptional visionary, one of a great bunch at Datapoint."
"A genuine font of knowledge in the operational aspects of the Contact Centre industry. Martin is able to grasp and present on most aspects of the industry. The Best Practice Forum series which he hosts for Datapoint is fantastic."
"Absolute visionary in the CC space."
"An excellent and thought provoking presentation to Severn Trent Water on the future state of customer service."
"A true visionary."
"Great knowledge of CC Industry – topical subject matter – good orator – I use Martin's knowledge of the industry to expose my managers to the next level in their skills and experience of the industry."
"A true visionary – and a personal inspiration."
"Highly focused visionary."
"Martin is most probably one of the most talented Call Centre experts I have had the privilege of working with. His thought leadership is unparalleled."
"Best visionary I have ever come across."
"Patient, intelligent and thought provoking."
---
2. Carolyn Blunt
Contact Centre Training Expert, Real Results
"Really understands what motivates people."
"Caroline has volunteered to do a lot of skills training at The University of Manchester and by doing so is making a great contribution to the industry."
"Carolyn has been a great help to me."
"Useful free e-snippets on a regular basis and an effective training programme. Down to earth approach."
"Approachable and supportive – always willing to share ideas and solutions."
"Excellent at tailoring training to suit specific business areas & their needs so that each session is relevant to the delegates. Very creative and always at the end of the phone if you have any questions and lets you pick her brains for ideas for your in-house training."
"Excellent training skills and knowledge. The facilitator course I attended was delivered by Carolyn and was very informative and enjoyable. The support I received following the course when I was facilitating was excellent."
"Expert training packages and a thoroughly nice person to deal with."
"I have worked with Carolyn in the past during her ICL/Fujitsu career. She was a great trainer, well respected across all levels and good fun to work with. She did the soft skills/behavioural training and I did the technical training. Our relationship developed and I now like to think of Carolyn as an ex-colleague who is now my friend. Well Done you!"
---
3. Owen Jackson
Head of Firstsource
"Very approachable."
"I have worked with Owen for 2 years and I believe he is a fantastic General Manager and has gained a lot of people's respect within the business. He is very approachable and keeps a level head. He keeps in contact with his staff and is always there."
"A pleasure to work with."
"Owen is always a pleasure to work for, he keeps on top of all of my requirements as his customer and never fails to deliver, in fact he strives to over deliver at every opportunity."
"Having worked with Owen for a number of years I am continually impressed with his leadership skills and his drive to delivery quality results."
"I want to vote him because I knew his capability and he is deserving for it!"
"Absolute legend, great at his job."
"Great professional."
"I have worked along side Owen for the last 3 years and have to say it's been an incredible journey. Owen is not your typical Manager, he is warm and friendly and can motivate and inspire you to perform rather than simply ask the question of "WHY?" Owen has been a friend and a confidant to me over the last 3 years and his door is always open should I have a problem or simply want to rant about something, which he normally replies to in a sympathetic but humorous response."
"Drive and desire to succeed has seen Firstsource Belfast grow from an FTE of 300 to just under 600."
"Inspirational! Exceptional Vision, a True Leader. Provides you with support and truly improves quality of life, not just a leader but a great friend."
"Owen has been a great manager since I started in Firstsource alongside him in the training room, we knew then that he was an Ops Manager but he just enjoyed being part of the team. He has always given me a lot of support through the last 3 years and he is always accessible to speak even though he is now the General Manager, so hopefully he will be with the company for a long time and if so then Firstsource will be on to a Winner."
"I have worked with Owen for 2 years and I believe he is a fantastic General Manager and has gained a lot of people's respect within the business. He is very approachable and keeps a level head. He keeps in contact with his staff and is always there if anyone needs his help. He is always available to speak to if we have a problem and I believe as long as he is in the company it will go far in this Industry."
"Outstanding leadership qualities and a great vision for the future."
"A great leader, who has turned around the centre culture to be all around the customers and the people."
"Approachable open and caring a great person to work with and learn from."
"He has great people skills and works well with the agents and the clients."
---
4. Sandra Busby
MD of the Welsh Contact Centre Forum
"For her work in promoting the contact centre industry in Wales, the home of some of the leading centres in Europe."
"An excellent ambassador for the Industry."
"Amazingly knowledgeable, always willing to share that knowledge."
"The best advocate for the call centre industry."
"Driving force behind one of the UK's most vibrant call centre regions."
---
5. Jo Dufficy
Contact Centre Development Manager, City of London
"Jo is very proactive in looking to improve the service provided and is very responsive to constructive criticism."
"Always willing to go the extra mile and pleasant to work with."
"Jo has extremely innovative ideas in Managing and developing Contact Centres around the UK."
"Jo is always friendly and helpful in delivering the contact centre service."
"A supportive colleague."
"Have worked well with Jo right from the start in setting up the City's Contact Centre, through personally training the staff (Agents) and up to and past going live – and I still am!!"
"Kind and helpful."
"Explains things."
---
6. Ann-Marie Stagg
Co-operative Financial Services and Chair of the CCMA
"Award winning Head of Direct Sales at the Co-operative Financial Services, Chair of the CCMA, Secretary of the European Confederation of Contact Centre Organisations, International Speaker and Awards judge. How does she fit it all in with a full time job in the Industry?"
"Consistently promoting this industry for years."
---
7. Dave Appleby
Business and Financial Planning Analyst at Health Insurance Company
"One of the highest profile characters in the online community with a good sense of humour."
"Great guy and a brilliant help to me. Dave should write a book. Erlang demystified. His advice is leading to better use of resource in our company."
---
8. Simon Roncoroni
Owner SRC
"I have always been inspired by Simon's keen sense of insight."
"Insightful, challenging and interesting perspective."
---
9. Leanne Yanitski
Telus Sourcing Solutions
"Outstanding leadership and business acumen as a director of Contact Centre, ensuring the people and driving results are well balanced to an art!"
"One of Leanne's key talents lies in her ability to acknowledge staff members when they do a good job and making sure that others in the organization are aware of the successes. She shows confidence in others' capabilities by encouraging them to try new things, set new goals and undertake new training. With any great leader her integrity and trustworthy are one of her strongest attributes, you can always depend on Leanne to never sacrifice her standards, no matter the consequences. Leanne's energy excites and inspires others to perform above past performances."
"Outstanding leader with grace, exceptional business acumen, she can execute quickly and precisely, as the team she builds is her greatest asset – ready and willing to drive change!"
"Leanne understands accountability and respecting people skills and motivation. She has shown that when you give people opportunities to grow, they become your company's strength, and in turn, inspire others."
"There are the rest and then there is Leanne! True 'People' Leader!"
"Strong, caring, woman with a great sense of business and sharing successes with everyone."
"Awesome!"
"There is nothing I could state bad about this lady…she gives 100% all the time…..and tells it like it is."
---
10. Neville Upton
CEO, The Listening Company
"Neville is unique, his understanding, ingenuity and passion for improvement are exemplary."
"A forward-thinking Director, with a passion for people and incredible zest for life!"
"His demeanor alone inspires belief in one's abilities."
"Neville is a real inspiration in the contact centre industry."
"Neville has created a great company to work for that provides excellent opportunities for personal growth and a stimulating environment in which to work."
"A motivational leader with a vision of the future."
"Neville delivers outstanding customer service. I worked at the Listening company and unlike a lot Neville prides himself on the staff, the facilities and also the clients."
"During client meetings his confidence and laid-back attitude is catching which allows you to perform at your best."
"Neville is a beautiful man – he believes in his vision and his dreams, and more importantly he believes in the people that believe in him. Constantly re-inventing TLC to be at the forefront of all things cutting edge, it is a joy and a pleasure to be refreshed with bespoke uniqueness."
"Excellent, always listens to what his staff need and implements quick changes to better the Listening Company."
"He understands people and how to create a sense of ambition in his leadership team. He understands how to position the business and maximise its potential in its market."
"He is the most insightful man in the industry."
"Has taken the Listening Company to be the best contact centre in the UK."
"Great business man, nice and friendly, and a ceo that looks after his callcenter's agents."
"Neville has been a real inspiration at TLC, a true visionary always planning ahead helping TLC continually develop and improve. Communicates well with all members of staff at TLC and really ensures personnel know their value."
"I look up to Neville Upton's entrepreneurial ability because he has built an amazing company with his workforce in mind, this has served him well when looking at the repercussions of his vision. I am proud to be a member of staff at The Listening Company and hope to be part of its amazing growth and opportunity for years to come."
"Great CEO."
"Having started the company, has real passion for Customer Services and continually strives to improve the service that we give and the development that is offered to employees."
"An inspiration to all. Not only is he the pioneer of the ever growing Listening Company but his commitment to his staff and also charity is unrivalled. Neville shows time and dedication to the company and to every member of staff and the charity events he has held have raised thousands for children's hospitals across the country involving people such as Lawrence Dallaglio to raise awareness. He has a vision of what he wants to achieve and then inspires his team to believe in the same dream with firm strategies in how it can be achieved and the benefits it will bring. The Listening Company has been the leader in new technology to bring uncompromised options of communication to his clients which in turn offers the customer more flexible ways to go about whatever service they require with outstanding quality. The EPI and CRM systems that Neville and his team have created is pushing the call centre industry in to new and exciting areas which again mean the customer is offered more."
Well done to all of our Top 10!
Here are the remainder of our Top 100 listed in alphabetical order:
Adam Faulkner
Joint Founder and Director of Systems Integrator, Sabio
"A steady hand at Sabio full of pragmatic advice."
"Hands on work that has made a real difference to many businesses."
Alan Barton
Equiniti
"The first call centre manager I ever met with a commercial aptitude."
Alison Scragg
London Borough of Camden
Ashley Bryant
London Borough of Barking & Dagenham
"Always willing to help, never says its someone else's business."
"Highly Professional Contact Centre manager working in an area of great challenge."
"Never accepts that something can't be done; always finds a way to make the most difficult problem achievable."
Anita Marsh
Marketing Manager, Aspect Software
"Wonderfully engaging marketer who listens and cares about customers. Lovely human being to boot!"
Ann-Marie Forsyth
Call Centre Association
"For tireless promotion of the industry and the raising of standards."
"Absolutely dedicated to improving the industry."
Carl Adkins
Managing Director, Infinity CCS
"A real networker in the contact centre industry … and a nice guy too! "
Caroline Swain
Managing Director, Fujitsu
"Senior Manger, handled growth and transformation of IT service desk business."
"I have worked for Caroline and I have always found her extremely focussed, dedicated and always ensuring both her and her teams deliver on their promises. She transformed the Fujitsu call centre division."
Cathy Eastwood
Customer Service Manager, Canterbury County Council
"Cathy is a great innovator, leader and evangelist for contact centre strategy in local Government."
"A visionary leader with a determination to deliver exceptional service."
Chey Garland
Owner, Garlands Call Centres
"Well respected, and holder of a CBE"
"Breaks the mould."
Christine Knott
Managing Director, Beyond the Box
Claudia Hathway
Ex Editor of CCF now Editor at H&V News
"Well liked and will be sadly missed from the call centre world."
Cobus Kirkpatrick
Independent Call Industries
Darren Degiorgio
Sales Manager, Plus One Services
"Darren is my manager at Plusone and I find him to be very fair, a great motivator and overall one of the best managers that I have worked for."
"The only manager I have ever worked for who can truly say that the people he manages are on his side."
"Outstanding inter personal skills combined with brilliant business knowledge and skill."
Dave Lee
Business Consultant, Datapoint
"Datapoint's lead Business consultant with fantastic focus on delivering tangible returns to the business."
"Dave is a longstanding industry consultant with a depth of call centre operations knowledge which he can translate into operational efficiencies for the businesses he is working with."
"Deep knowledge, pleasure to engage with."
"I've known Dave for years and he is a top man!! Hard working and well known within the industry.
"Dave has built a wealth of knowledge within the Call Centre industry through his direct involvement with customers, helping transform their businesses."
Dave Paulding
Regional Sales Director, Interactive Intelligence
Faraz Khan
Business Development, Director, ProtoCall One
"A font of knowledge on Genesys and the operational efficiencies that it can bring to a business as well as its implementation intricacies."
Fareed Zaka Bajwa
Mobilink
"Fareed is a very thorough professional person with an in-depth knowledge of contact centre technology and management from top to bottom."
"Top professional."
"Great personality, thought, and vision."
Fred Reicheld
Author of the Loyalty Effort and developer of Net Promoter Score
"A real visionary. They key force in customer loyalty."
Gene Reynolds
Director at Blackchair
"Gene is an all around nice guy. He knows his stuff and is well liked."
Giles McClelland
Edge Hill University
"For data and trend analysis in the industry."
"Passionate about people development and one of the best guys I've worked with."
"He is truly dedicated to researching and disseminating best practice within the CC Industry. He has a wealth of knowledge which he always willing to share and help in any way he can to promote the Industry. A true great of the Industry."
"Very enthusiastic and knowledgeable."
"Giles is very knowledgeable on the Call Centre Industry and is always willing to assist with any queries."
"Giles won't win because he will not even try to generate votes this alone makes him top for me! He is a genius on contact centres and highly respected by all who meet him."
"Excellent knowledge of the industry and wrote a great book."
"Always knowledgeable and always helpful in all aspects of work from cc industry matters to administration/financial."
"Legend, many years of hard work and a significant contribution to the North West economy. Not one who likes the limelight, shows incredible levels of humility and would probably be very embarrassed to win."
"Approachable, efficient and good with customers."
"One of the major UK researchers on call and contact centre industry. Work undertaken with a large number of leading organisations. The number 1 academic researcher in the UK Currently Senior lecturer at Edgehill University, Lancashire, and undertaking PhD at Leeds Metropolitan University on the industry."
Gordon Loader
Senior Manager EMEA Solutions Marketing, Avaya
"Gordon is a marketeer in the true sense of the word. He has an uncanny knack of being able to predict what will happen in the market."
Graeme Kalabraier
Managing Director, Call Connection
Guy Masters
Director, Cactus Search
"A real nice guy to work with. He sounds so chippy on the phone."
Guy Tweedale
Senior VP and General Manager EMEA, Jacada
"Very switched on."
Gwenllian Williams
Director, deWinton-Willams Business Consultancy
James Le Roth
Eclipse Marketing
Janette Coulthard
Marketing and Communications Director, 2gether Consulting
"Janette is the epitome of a contact centre subject matter expert and a pleasure to work with."
Janette Garlick
London Borough of Sutton
"Janette is a great innovator in her busy contact centre, dedicated to improving customer service and providing a great environment for her teams to work in."
"Promoting shared working across London."
John Casey
Director, of Product Development, Professional Planning Forum
"I have enjoyed working with John. He always seems to get things done."
Jonathan Evans
TNT
"As a customer Jonathan is the most approachable person I have had the pleasure of dealing with, his willingness to help is second to none and his knowledge of the call centre market makes him a huge asset to TNT."
Jonathan Grant
CEO, NewVoiceMedia
Jonathan Wax
VP EMEA, Nexidia
"Knows speech analytics like the back of his hand."
"Jonathan has a vast knowledge of the speech analytics market and has been one of the key people promoting the technology."
"Works hard and knows his software."
Jon Snow
Founder and Editor, Call Centre Clinic
"Fantastic at bringing key people within the industry together."
Jonty Pearce
Founder and Editor, Call Centre Helper
"Call Centre Helper been a breath of fresh air and provides an invaluable alternative viewpoint."
"Call Centre Helper keeps me in the loop with the hot news. Good work Jonty!"
"I first worked with Jonty at Aspect and he's always been helpful and opinionated!! What a nice fella."
"Dynamic informative site."
Keir Tutt
Director of Client Services, Thomsons Online Benefits
"Stickler for detail and great customer service."
"Great guy to work with."
"Amazing Performer!!!! What great results."
Keith Gait
Managing Director, Orchid Consulting
"Such a brilliant manager, leader of people, sorts out the problem in no time."
"Fantastic turnaround leader."
"A superb leader, exceptionally gifted with a huge passion for delivering great service, and respected by everyone who works with him."
"I don't think there is anything Keith doesn't know about the industry. A gentleman in this challenging sector."
Keith Wilkinson
Genesys Labs EMEA (UK)
"A vendor sales consultant who has helped or lead the delivery and adoption of approx. 300K Contact Center agents position seats of complex functionality and he always puts the customer first, treat his customer and colleagues with respect and is one most professional and credible people in the industry."
Ken Reid
Director, Rostrvm Solutions
"A seasoned campaigner in the Call Centre market."
Ken Ryan
Former IT Manager at Dell Computer in Dublin.
"One of the sharpest IT Managers that you are likely to come across."
Kevin Gatens
Director of Customer Service, EDF Energy
Kenny Morris
Senior Director of Operations, Sykes Global Services
"Heading up Sykes's EMEA operation in Europe and Africa, Kenny has been primarily responsible for the success of the group's growth in the European market, which contributes about a third of the Florida-based parent's annual revenues of just over $800-million. Kenny is one of a new breed of young Scottish managers, who are supremely comfortable and successful in overseas markets."
Kim Albano
VP Customer Operations, ESPN
"Great leader!!!  Knows the Call Centre industry backwards and forwards."
Kim Inglis
Group Executive Customer Contact, IFDS
"If I were to be asked the question, "Who would you say is the most successful person you know?" I would think of Kim immediately. She has a natural presence that singles her out in a crowded room, as all really successful people seem to have."
Call Centre Manager of the Year, Scottish Power
"Great reputation in industry."
Lode Vande Sande
Systems integrator and director of LVS Consulting
"Lode is one of the most extraordinary people that I have ever had the privilege of meeting. Incredibly knowledgeable and with tireless appetite for work."
Louis Burger
Independent Call Industries
Mark Hirst
City of London
"Mark has vision and is prepared to invest in new technology in his role as IT Manager at City of London to improve customer service and reduce costs in the contact centre."
"Can do attitude."
"A supportive colleague."
"Mark is focused on service qualities like no-one else I have come across."
"They diffuse all annoyance and change it to co-operation."
"Mark is both very forward looking in his approach to the application of new technologies to deliver service improvement whilst understanding that technology is an enabler not an end in itself."
Martello Momple
CCH Group, South Africa
"A muse since 1995."
"An amazing wealth of knowledge."
Martin Meikle-Small
Managing Director, EMAX Group
"Martin was a great inspiration to me. He is incredibly perceptive."
Professer Merlin Stone
Customer strategist and part-time professor at Bristol Business School
Michael Allen
Contact Centre Research
"A highly experienced Call and Contact Centre expert.  One of the most ethical and driven people I have ever met and totally committed to delivering the best service for his clients."
"Knowledge second to none."
"Highly innovative and passionate about the industry."
"A highly experienced Call and Contact Centre expert. One of the most ethical and driven people I have ever met and totally committed to delivering the best service for his clients."
Michael Biondo
Thumbplay
"no brainer on this one."
"Just Google him."
"check this guy out – he is on fire at the moment!!"
"Winner of the 2009 Stevie Award for "Customer Service Leader of the year."
"I worked with Mike at Thumbplay for the past year. He has taught me so much about Customer Service – He rallies around six principles/values. Keeping our Promises is the very first one. We've seen increases in FCR and NPS scores – He championed the idea of calling our customers – Fans- and by adhering to the "Golden Rule" our center as been recognized by receiving several awards – He also designed "Mobile Chat" – Fans can chat with us with a WAP session using their mobile phones – a true first in the call center industry. In addition to this new touch point – we offer web chat, click to connect with scheduler, email support and a 24/7 Call Center. His time at ESPN certainly assisted him in building his team here – He has a ton of "catch phrases" that everyone loves…."In order to win the game you need to know the score" – this is way of saying focus on analytics…he has a ton of these that we all rally around…alright I'm rambling…truly excellent leader…"
"I worked with Michael at ESPN and quite simply he is electric. Everything is about the customer experience. He changes corporate cultures to build companies around customers."
"I worked for Michael at Thumbplay and learned so much about how to run a Call Center Operation and more importantly how to practice the "Golden Rule" – In addition to that he is a report junkie – he can slice and dice numbers in so many ways and paint a picture that I call him Picasso – cheers"
"Biondo is awesome – great blogger and social media geek too!!"
"Michael Biondo is very smart and a great business man!"
"Great guy. Not afraid to tell you like it is. In my opinion this is what gets things done. Very understanding in times of stress and can motivate."
"Michael's goal is to provide the highest quality of service to Thumbplay's customers and will not settle for second best!"
"I voted for Michael Biondo because in this very fast paced, and tough environment, Michael does not forget what is most important at the end of the day, and trust me, you can always count on him. the words to describe him: trustworthy, dignity, respect, honesty,knowledgable, dependable. he really deserves this recognition!!!!!!"
"Very easy going – good to talk to and very customer friendly :)"
Mike Thomas
Head of CRM Centre of Excellence, Centrica
"Probably the best call centre technologist that you will find."
Nick Drake-Knight
Author and change consultant, NDK Group
"I've enjoyed reading Nick's articles… He can be controversial."
Nick Lane
Orange UK
"Among a select group of multiple award winners and shows exceptional passion, innovation and wisdom."
"Nick is a one off, and a true inspiration. He makes time for all his people, not just his direct reports. He coaches, mentors and pushes people to their best. I can't imagine Orange ever being the same if he left!! I have the pleasure of working with him and I have him to thank for boosting my knowledge of callcentres, my confidence and my motivation. A truly great bloke!!"
"Nick has been a real inspiration, always full of drive and enthusiasm. Despite his busy schedule he always has time to spend with his people, no matter what level of the business they are, making sure that there is an element of fun brought to the day. In terms of knowledge simply put he knows it all, don't know how he absorbs and processes it all but he does and is always happy to take time out to pass that knowledge on."
Nicki Jezzard
HR Manager, Domestic & General Call Centre
Nigel Jones
Marketing and Business Development Manager, Alcatel-Lucent
Paul Milloy
Head of Contact Centres, British Gas Services
"Among a select group of multiple award winners and shows exceptional passion, innovation and wisdom."
Paul Smedley
Founder, Professional Planning Forum
Paul Weald
Director, RXP
"A great consultant."
"'First class' leader in providing call centre consultancy."
"Paul's enthusiasm and visionary approach is always motivational."
Pauline Smith
Nottinghamshire Police
"Contact Centre Director at Nottinghamshire Police and recently awarded an MBE for her services to Policing, Pauline is a CCMA Board member and is very active in both the Public and Private Sector contact centre industry."
Peter Massey
Managing Director, Budd
"Peter has acted as an unofficial mentor for me (and a number of others). He always finds time for me in his busy schedule – particularly if I have a thorny problem."
Philip Briscoe
Marketing Director, SmartPoint
Pinaz Hansotia
Business Unit Head and Relationship Manager, Seamless Connections
Ray Brown
Royal Borough of Kensington & Chelsea
Richard Brown
VP Sales EMEA, Interactive Intelligence
Richard Mill
Managing Director, Business Systems
"What Richard does not know about Call Recording is not worth knowing."
Richard Ray
Director of Analytics, Verint Consulting
Richard Snow
Research Director, Ventana Research
 
Robin Bache
Client Delivery Director, The Listening Company
"One of the best at what he does in the industry and so passionate."
"Robin is truly a talented operations manager. He has razor sharp intuition, and delivers to standards above and beyond all expectations. Having developed through the Listening Company through the ages, Robin is a supreme example of self development."
Robin has struck the balance of professionalism with relaxed charm that others could learn from!"
"Robin is passionate about his work and has experience of virtually every sector."
"An amazing Account Director on my current project. He is driven, passionate and amazingly flexible."
He has great foresight and very easy to work with."
"Robin is a real authority in the automotive customer contact industry. He has a real passion for what he does, and he is a pleasure to work with."

Rose du Preez
The Service Monitor, South Africa
"The epitome of customer services and contact centres globally."
Roy Holmes
Account Executive, Aspect
"Anyone who comes across Roy will know that he's a seasoned pro. He cares about his clients and takes the time to get to know them. He seems to have been around since the Contact Centre industry started !!!"
Roz Broome
CCH Group, South Africa.
"Queen supreme of the contact centre industry in South Africa."
"I've worked with her and she is the best at what she does."
"Always thinking of the best way forward for all."
"As a motivator and mentor she has done wonders for the industry."
"I have worked with Roz for the past 2 years. She is the most inspiring woman to work for, extremely knowledgable in the call centre Industry. I have huge respect for her and enjoy working with her every day."
"What an awesome leader."
Rufus Grig
Managing Director, CallMedia
"Rufus is a very likable person and a key driver for change in the outbound market. He has a real dry sense of humour."
"Great guy to work with, as good as they get at Azzurri."
"An unassuming industry legend who is always looking forward."
"A true expert and commentator. Worth a vote for the AMD algebra explanations alone!"
Sarah Millward
Asperity
"Treats her staff as people and not battery hens."
"Sarah has a talent for genuinely thinking about individual customer needs, and it is this skill I feel has always set her clearly above the rest."
"She's great to work with!"
"Great ideas and great management of the team."
"Sarah has a very professional approach, combined with a friendly manner and excellent service skills."
Schalk van der Walt
Independent Call Industries
Sean Canning
Operations Director UK, Firstsource Solutions
"Very approachable, always smiling and very friendly."
"Sean is always considerate to new ideas and encourages participation in initiatives to promote the business."
"Sean is an outstanding Manager and I have been in 2 centers with Sean now. He is very professional and down to Earth. Sean tells it like it is and doesn't beat about the bush. Straight down the line guy."
"Inspirational manager."
"Sean was my GM in the previous CC in worked in and is now in my regional manager in a new CC I work in. He is very hands on, his knowledge in the CC industry is excellent."
"Sean shows great leadership which inspires all to achieve their very best."
"I first worked with Sean at STream in Derry. Since then he has moved onwards and upwards and is now very well respected in the Outsourcing arena."
"The work and expertise that he brought to the local area has really helped develop and build relationships with Derry people."
"I've worked under Sean Canning in 2 different BPO organisations over the last 6year and found him to always be a gentleman. He's friendly, approachable and has a real positive attitude, and genuinely believes in building a successful team – which I consider to be his best strength. With his involvement and support you want to be a better team player – he makes you strive for more whilst acknowledging all achievements and promotes a positive 'Can Do attitude' that's infectious. From 10years in the BPO industry Sean is the only manager I've encountered that I'd fully support and respect without reservation."
"Provides direction and vision, realy good platform for success."
"A strong, calm leader."
"Sean has shown his dedication to the Vodafone contract on many occasions, there have been a number of Technology led initiatives which have been delivered successful thanks to Sean's dedication to Customer Delight."
Sharon Hull
IFDS
"I respect the fact that no matter if it's 8am or 9pm, Sharon has a bright, genuine smile, a kind word and an integral enthusiasm. Her natural can-do attitude is an example to us all and even on the toughest day she radiates a sense of purpose, optimism and encouragement that's entirely natural and refreshing in its sincerity."
Simon Thorpe
Programme Director, UBM
"He deserves to be recognised for the exceptional way in which he has built up his profile as a trusted and likable industry professional."
"Excellent Manager and Role Model."
"Simon is spearheading this ground-breaking benchmarking programme and deserves to be recognised for the exceptional way in which he has built up his profile as a trusted and likable industry professional."
"Launching a campaign that can genuinely raise standards and our industry's reputation."
"He's a real sharpshooter."
"Simon is incredibly driven in his pursuit to make a difference within the call centre industry through the Top 50 Call Centres programme. A consummate professional whose enthusiasm is infectious."
"For creating a truly original programme that drives industry performance and raises the profile of our community."
Stella Jones
Managing Director, B2B Contact Marketing
"I would like to nominate Stella as she tirelessly campaigns to make sure that Call Centres are thought of more highly than simply a factory. She advocates that it is a profession and a skill."
"Dynamic – makes things happen, deep experience and knowledge of the sector."
"She is just a fantastic, dedicated , passionate person and a great example to others."
Stephen Parry
Transform4
"Author of Sense and Respond: The Journey to Customer Purpose."
Steve Hubbard
Royal & Sun Alliance
"Among a select group of multiple award winners and shows exceptional passion, innovation and wisdom."
Steve Hurst
Former Editor of Customer Strategy Magazine and Editorial Director of Contact Centre Global Outsourcing Summit.
Steve Morrell
Managing Partner, ContactBabel
"Steve's industry knowledge has provided many organisations with the unbiased baseline to make some very difficult choices of technologies within a very complex market."

Sue Philpot
IFDS
"She's a young woman with so much business and experience and responsibility she can't help but be an inspiration. She has an amazing ability to manage everything from client conversion projects to secondments abroad to hysterical MI managers."
Tom Robinson
Training and Development Manager, MITIE Client Services
Tom Vander Well
Editor of the QAQNA website
"Tom is a really nice guy, with ethical values. His blog is always a good read."
Travis McIntyre
Netfor
———————————————————————————————————