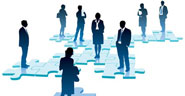 A new contact centre has received over 200 applications from potential employees after two successful open days.
Yello contact centre has been established with the support of the Isle of Man Government, who have long recognised the value of a locally based contact centre, providing a much-needed 24/7/365 resource for betting and gaming companies based on and off the island.
Managers at the start-up business were hugely impressed by the level of skill and enthusiasm demonstrated by the islanders who came along to the events in Douglas.  They are confident that they can find the right people locally to fill around 100 posts by the end of the year, which range from Customer Service Consultants to Senior Management.
"The recruitment day went incredibly well and the quality of the candidates confirms our belief that we can source almost our entire workforce here on the Isle of Man," said Martin Linham, CEO of In-Q Ltd, parent company of Yello.
Published On: 22nd May 2013 - Last modified: 22nd Mar 2017
Read more about - Archived Content
---