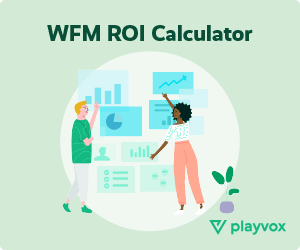 Our panel of experts make their predictions for how contact centres will change and develop in 2022.
Retail Stores Will Take Customer Calls
Many companies now train their brick-and-mortar retail store employees to respond to customer queries via voice and digital channels. It's an interesting early trend.
Such models will come to the fore in 2022 because they solve several issues.
First, it addresses the pandemic-driven rise in digital-first consumers and the corresponding decline in retail foot traffic. At the same time, it balances the cost/benefit equation.
Secondly, it combats current staffing shortages and the pressure on contact centres to attract and retain talent.
Lastly, by sharing ownership of the customer experience with a broader base of employees, companies can solve issues faster, offer wider channel availability and support, and deliver more consistent customer experiences.
Thanks to Janice Rapp at 8×8
Self-Service Comes to the Fore
Self-service offers excellent cost-efficiency, but, first and foremost, it satisfies the desire of many modern customers to enjoy a contactless customer experience.
As this is the case, companies will increase their focus on constructing positive self-service experiences. One crucial consideration is to provide an easy route to the solution.
Analytics and customer knowledge can guide companies in plotting customer journeys and identifying networks of significant events.
Some of these will be context- and detail-rich, like complaints, where self-service options are unlikely to replace a human touch and empathy skills.
From here it is crucial to keep the goals of self-service in mind: convenience and efficiency.
Indeed, if customers spend lots of time finding a self-service portal only to be offered unsuitable options, there is a real risk of sabotaging the customer experience.
So, test thoroughly, make adjustments and evolve the system. Also, remember to review self-service portals regularly to ensure they are still adding value.
Proactivity Rejuvenates the Outbound Contact Centre
It is time to rethink outbound customer service and reduce "acceptable" customer churn rates. Now many contact centres have the data to predict the best times to approach their customers. Such knowledge will help to bypass problems before they occur.
Of course, proactive customer service can be a risk when a contact centre does not have the context. Yet it is now possible for many to build intelligent, proactive outbound service strategies.
Consider the example of a customer who is consistently late with payments but always pays eventually. Rather than waiting for a problem to emerge or the customer to leave, proactive customer service could offer an alternative payment schedule or a lower-cost option. An approach like this supports customers who are potentially vulnerable and makes them feel valued.
Leveraged at the right time, outbound calls such as these provide an opportunity to build longer-lasting relationships between customers and the businesses that serve them.
Thanks to Neil Titcomb at Odigo
Contact Centres Begin to Anticipate Recurrent Needs
"95% of consumers use three or more channels in a single customer service interaction, with 62% of them crossing devices," reads Forrester research.
Unfortunately, this statistic clashes with what customers really want. In truth, they have little desire to ever contact a company, let alone across three channels. Customers simply wish to get on with their lives.
This new, digital behavioural mindset dictates that contact centres must think differently. Anticipating customer needs and sharing proactive communication is becoming critical.
To achieve this aim, grab some sticky notes and create customer journey maps across an office wall. Then ask the question: which queries are easy to anticipate earlier in the customer journey?
These sessions simplify planning for a proactive strategy. Yet, even better than proactive service is no service. So, when assessing journeys, also consider the question – which contacts can we remove entirely?
Through such anticipation, contact centres can simplify customer experiences.
Leaders Challenge Stakeholder Complacency
58.3% of contact centres highlight budget as a significant hurdle to running their dream operation – according to recent Call Centre Helper research.
What is driving these budget restrictions? Often, it's stakeholder complacency.
Many stakeholders fixate on a "north star" metric – such as a net promoter score (NPS). If this metric score stays above average for the sector, they will see little need to invest.
However, poor measurement practices often mean that metric scores fail to reflect reality.
To make progress, leaders will need to adapt their approach. When engaging with stakeholders, illustrate issues instead of metric scores alone. Metrics will then serve to illuminate the extent of the problem.
Analytics tools may also simplify the process. By quantifying how often customers reference an issue, the solution will inform a cost analysis initiative. Such an initiative estimates how much money the problem costs the company.
Such strategies may involve upsetting the apple cart. But if contact centres can be clear on the issues, show their impact on customer experience and demonstrate how further investment would help, overcoming stakeholder complacency becomes easier.
Contact Centres Will Act Against Attrition
With low unemployment rates, recruitment is a significant contact centre issue. To make matters worse, many operations face a never-ending cycle of attrition.
According to a recent Calabrio study, one in three advisors will consider leaving their post within the next year, while half plan to leave within two to three years.
Of course, there has always been high attrition in contact centres. Nevertheless, these figures are worrying, particularly as advisor stress level rates rise too.
In fact, further research found that 33% of advisors now feel acutely stressed multiple times a week, compared to just 25% in 2017.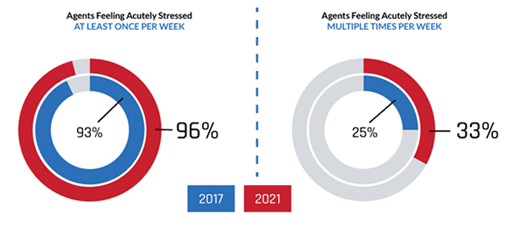 So, how will contact centres lower both stress and attrition rates?
Perhaps a good place to start is by addressing the three most common drivers of advisor stress. As per the report, these are:
Managing work/life balance
Complex customer issues
Too many calls
Implementing workforce management (WFM) software will help to meet each of these goals. For example, consider managing work/life balance. WFM tools enable advisors to set shift preferences, swap shifts and make time-off requests through an app.
Contact Centres Play a Greater Strategic Role Within Customer Experience
Typically, external agencies produce customer experience strategies with little consultation with business departments – including the contact centre.
Across the business, it then becomes a struggle to make such strategies operationally useful – let alone set improvement priorities and relevant metrics.
Noticing this disconnect, many stakeholders have recently tried to re-engage leaders with the wider strategy. To do so, they gave them job titles that include the term "customer experience".
Sadly, for many, the change came with little guidance.
Ever since, customer experience education has topped many contact centre agendas. However, as a central source of customer experience insight, contact centres have lots to learn.
Setting goals like connecting siloed data, channelling customer feedback and collaborating with other departments is a great starting place. These enable contact centres to become the cornerstone of customer experience.
Thank to Dave Hoekstra at Calabrio
Empowerment Tops Contact Centre Agendas
When advisors perform at their best, customer experiences improve. As such, equipping the team with the right tools, context and information brings many benefits to customers.
Yet encouraging autonomy and instilling advisors with confidence is even more crucial. They must have the licence and means necessary to do what they need to do to resolve queries.
In 2022, advisor empowerment will rise as leaders set the tone from the top down. If the concept is relatively new, emphasize and repeat the message regularly until it is a pillar of all conversations.
Thanks to Chris Holt at RingCentral
Being a Top-Notch Employer Becomes Critical
As the "Great Resignation" continues, contact centres must make strides in becoming employers of choice.
One of the most effective ways to do this is to enable advisors to do their best work from anywhere. The benefits flow both ways; advisors get to work from wherever they are, and managers may focus on hiring the best employees, regardless of location.
In this hybrid context, metrics, evaluations, and coaching take on greater importance.
Giving feedback to agents, especially those who need a boost in production, quality, or motivation, ensures a more balanced team.
Grasp this opportunity to use quality assurance to your advantage to track the effectiveness of each team member and tailor coaching and training to their specific needs.
To go further, boost advisor confidence by highlighting excellent performance and incremental improvements. Celebrate these achievements with awards and posts on a "Community Wall" for the team to share in the experience.
Thanks to Jennifer Waite at Playvox
Keyword Chatbots Begin to Bite the Dust
As Call Centre Helper research shows us, most customers (55.3%) agree that the quality of chatbots varies considerably from one company to another.
The trouble with many of these chatbots is that they include very little AI. Instead, they are based on keywords, limiting their functionality.
As this is the case, more intuitive AI-driven chatbots and voicebots will soon replace these technologies.
In the contact centre, these bots will solve particular queries or prepare the groundwork for an agent to provide quick resolutions. Sales and marketing may also deploy bots for other purposes.
Digital Interactions Become More Conversational
End-users have a high appetite for engaging in conversations with businesses, as they would with their friends and family. Such a trend will grow and has contributed to the emergence of Google Business Messaging, Apple Business Chat and WhatsApp.
The rising desire for easygoing customer experiences is driving the growth of these channels. After all, customers now want support – typically via social media, chat apps and email – as and when needed.
So, reassess digital service levels and coaching, as the traditional contact centre slowly becomes a digital hub.
Thanks to Mirza Hadzic at Infobip
Collaborative Digital Workspaces Help Remote Workers
2022 will be all about hybrid working, as contact centres get to grips with the challenge of managing teams in which advisors are based both in the office and at home.
How will companies treat their contact centre workers fairly and consistently, regardless of where they work? How will they know who works best from home?
To bolster performance in a hybrid setting, many companies will turn to collaborative, digital workspaces. These enable everyone to collaborate and accomplish shared goals.
In doing so, managers gain a clearer view of which workers need additional support, from which they can identify where particular advisors work best.
Yet it is not a case of repurposing office-based management and communications tools. The world of homeworking demanded a new mindset and advanced solutions for everything from recruitment and onboarding to WFH communications, security and scheduling. The world of hybrid will be no different.
Thanks to Mark Walton at Sensée
Contact Centres Adapt Customer Journeys to Cut Contact Volumes
Many contact centres are struggling with their demand. The usual short-term fixes of recruiting, working harder and channel deflection are not delivering. Better understanding and adapting end-to-end customer journeys provides an improved, long-term solution.
The best examples will create streamlined processes which are easier for customers and more commercially attractive. The worst instances will create costly vicious cycles of frustration for customers and colleagues.
Those that understand their demand profile will become more proactive, contacting customers, pre-empting problems and anticipating future transactions. Those that continue to misunderstand their demand profiles, relying on historical patterns, will remain on the back foot, discovering problems as they occur.
In this position, contact centres struggle with higher customer expectations and a battle to keep team members who now have more options when considering new jobs/careers.
Thanks to Phil Anderson at The Forum
Smart Devices Drive More Voice Traffic
The growth of voice assistants highlights the increased comfort of consumers in engaging with systems via voice interfaces.
As this is the case, providing a voicebot to handle calls as they enter the contact centre is a logical progression of customer experience.
For the contact centre, this offers the potential to automate and reduce costs while enabling advisors to concentrate on higher-value interactions.
Thanks to Mike Palmer at Spearline
Contact Centres Return to the Fundamentals of Good Service
In recent years, many businesses have rushed to deploy the latest technologies without understanding where they fit within the context of customer journeys.
Failing to do so causes technology implementations to fall flat as company culture and work processes plateau.
Consequently, 2022 will see contact centres going back to basics to excel at customer service. Running reviews of customer journeys, customer service objectives and data management strategies will enable operations to lay the foundations of success.
Then contact centres can look to readdress their technology infrastructure. By focusing on how technology can fit into a customer-first strategy, rather than the other way around, they can reinvent their definition of customer service.
Thanks to Alex Stenton-Hibbert at Business Systems
AI Evolves the Advisor Experience
Over the last decade, many predictions of the future contact centre have centred around the emergence of AI and automation. For many, AI was a buzzword. Now, however, it is an investment that provides tangible benefits to daily operations and long-term growth.
Moving beyond conceptual applications of AI, many operations are finding great value in using it to enhance advisor support tools – such as the knowledge base.
Yet it's also furthering the employee experience in other ways. By bolstering self-service systems, as an example, AI removes routine contacts from the call centre. This means that advisors can handle more engaging interactions that make or break the customer experience.
Thanks to Frank Sherlock CallMiner
Digital Strategies Come Under the Spotlight
Enabling customers to navigate between digital touchpoints cohesively will become a priority for many more contact centres.
Digital channels remain a non-invasive way to ensure customers can stay connected to the business and maintain control at their convenience. Acknowledging and acting on this will continue to pay dividends for the contact centre.
Further improvements in omnichannel focus and personalization, CRM segmentation and dedicated self-serve capabilities will also drive a clamour for innovative, cohesive outbound and inbound marketing strategies.
Regulations Won't Keep Pace With the Latest Innovations
The level of oversight and regulatory provisions has exponentially increased over the last several years. With expanded touchpoints and digital communications innovations accelerating at unprecedented speed, regulations won't keep up.
However, contact centres can begin to anticipate regulatory actions, helping to maintain trust and permissions from end-users.
Digital compliance monitoring will keep customers and employees protected from regulatory missteps. Yet it is up to the industry to use those regulations as a stepping stone toward improving public perceptions, customer relations and experience.
Thanks to Cameron Thomson at Alvaria
Employee Trust Becomes Essential
Many businesses have struggled with remote working and have tried to make the hybrid approach work for them and their teams. But a return to the office seems likely to be on the cards.
Why? Well, in many cases, there is a lack of trust amongst leaders and managers. Without proper communication, clear insight and data, many leaders feel that they need people in the office to keep an eye on them.
However, leaders should consider how they can still attract and retain talent if they're not willing to empower their people and offer a bit of flexibility.
Thanks to Sean McIver at MaxContact
Technology Ecosystems Become More Sophisticated
The past two years have seen a significant acceleration in businesses moving to the cloud. As such, integrations are commonplace, and technology infrastructures grow ever more advanced.
Now, with lots of applications available in the cloud, more contact centres will deliver a joined-up customer experience almost entirely in that environment.
Yet there is still work to accomplish. Many companies rushed their cloud migration back in 2020 to ensure business continuity. In 2022, expect to see them continuing their efforts to integrate systems to ensure network security and a good customer experience.
Thanks to Gary Bennett at Enghouse Interactive
Customer Convenience Becomes a Central Goal
Many customers expect to contact a company through their channel of choice at a convenient time for them. Self-service and automation are, therefore, becoming significant priorities.
Yet the growth of these technologies will impact advisors. They will have to handle more challenging queries. Having instant access to customer information, whatever the channel, will enable them to field questions effectively.
Centralize the information in one location. Advisors can then view the customer's details and history in one place and provide a single, cohesive experience.
Thanks to David Evans at Vonage
Bots Move Further Into the Voice Space
Consumers have become more comfortable engaging naturally and conversationally with their smartphones and smart speakers.
As they become accustomed to getting help from their virtual assistants, having self-service options across the voice channel is a more exciting prospect.
Virtual voice agents enable consumers to get quick answers to simple queries without speaking with a live advisor. Customer effort and contact centre demand may then decrease.
Thanks to Brian Atkinson at Five9
Cloud Accelerates Customer Engagement Plans
With the accelerating transformation of contact centres, brands increasingly use digital and voice-powered technology to bring their customer engagement visions to life.
To take this to the next level, expect to see an increased focus on maximizing the value of the cloud contact centre.
In doing so, contact centres can quickly improve their digital proposition, reduce costs and focus on serving customers instead of managing infrastructures.
Thanks to Seb Reeve at Nuance
2022 Is the Year of Instant Gratification
When a customer need arises, "later" isn't an option. Precipitated by widespread digital adoption in 2021, consumers no longer have patience for anything but instant gratification.
Customers expect that you'll deliver 24/7, effortless response on their preferred channel. Whether it's solving a problem, checking a balance, making an appointment, or any other need, every micro-moment along the end-to-end journey should be fast and frictionless.
The speed of the customer isn't just real time, it's proactive. Forty-five percent of UK consumers will switch brands if a company doesn't anticipate their needs (Salesforce). To keep pace with customer expectations at scale requires fully integrated, AI-powered experience technology.
Take the "intelligent" chatbots that can't process customer context as an example. The basic options for self-service create friction. But in 2022, leading technology powered by conversational AI makes self-service smarter, transforming even complex interactions from "I don't understand" to "Here's the answer."
AI is also important for human-assisted interactions. You can't deliver instantly if customers wait while an agent navigates multiple systems and information silos for the answer. AI-powered knowledge bases and guidance give the agents the right actions and answers faster, making both the agent and customer feel good.
Instant gratification isn't just about moments of satisfaction paying off in CSAT and NPS benefits. It's the cumulative sum of customer experience
Shift From Generation-Based to Generationless Channel Preference
One of the seismic changes in consumer behaviour is the shift from digital natives' generationally defined channel preferences to a generationless wave of customer preference for digital channels, period.
Since 2020, due to mandates and personal safety, face-to-face interactions were replaced with digital. These changes were not limited to younger, digital-native generations like millennials and Gen Z.
All consumers upgraded their home technology, including Baby Boomers and other digital non-natives who went online to buy groceries, make appointments, and stay connected. And there's no rebounding.
This generationless trend impacts the CX industry in a few ways:
There are no generation-bound digital channel preferences. Everyone wants self-service, and there's widespread adoption of self-service and digital channels like email, SMS, messaging and social.
There are higher expectations for digital experiences. Digital offers a boundary-less landscape of alternative options when customers and employees don't get what they expect.
Customers and employees wield the power. If you can't deliver on expectations, one-third of customers will walk away, and employees will quit (cue the Great Resignation). Businesses can no longer serve their own interests.
Customer-centricity matters more than ever. As customer experience has evolved into a business priority, the contact centre is more important, with a larger role supporting the end-to-end journey.
Hybrid Work Will Become the Primary Workforce Model
Hybrid workforces are the future. Forrester predicts that "[of] the 60% of companies shifting to a hybrid model, one-third of attempts at anywhere work simply won't work" (Forrester Research, Predictions 2022 Guide).
The reason for failure isn't due to the hybrid model itself, it's the lack of companies' full commitment to getting the experience right.
This model blending remote and in-person work has created new job opportunities, offered flexibility, and given employees the freedom of choice. It's partly responsible for the "Great Resignation", because if the employee experience isn't up to par, there's more opportunity to leave.
To make hybrid work, leaders need a purpose-built strategy that prioritizes digital-first employee experience. The employee experience (EX) should mirror the customer experience (CX). And listening to customer feedback and performance metrics can help you understand training opportunities and where to improve friction.
For instance, sixty percent of agents report lacking the tools they need to deliver meaningful CX. Agents need to be equipped with AI-powered tools that empower them to quickly respond to every customer need.
One solution for removing their friction might be an AI-based employee assistant that can automate routine tasks and provide real-time coaching and information.
Getting hybrid work right will engage and build lasting connections with your employees, and your customers.
Thanks to Chris Bauserman at NICE CXone
Eager to discover more about the contact centre of the future? The following content presents even more insights that will keep you one step ahead of the competition: