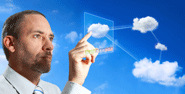 NICE Systems has launched its cloud-based Workforce Optimization (WFO) suite, the first to offer full capabilities for Recording, Quality Management, Analytics, Workforce Management, Performance Management, Incentive Compensation Management, and Voice of the Customer, all deployed in the cloud.
These solutions are offered as hosted or as software as a service (SaaS) to provide customers with greater flexibility, lower up-front costs, and faster implementation.
Industry trends indicate rapidly increasing demand for cloud technologies. According to DMG Consulting's 2012-2013 'Cloud-Based Contact Center Infrastructure Market Report', the number of cloud-based contact centre seats grew by 80.2%in 2011, following a 42.4% increase in 2010. The report anticipates that by the end of 2015 more than 18% of contact centre seats will be delivered by cloud-based contact centre infrastructure providers.
NICE's cloud-based WFO suite offers customers several key benefits:
Cloud deployment for contact centres, back offices, branches, and retail is far faster and can be done at a lower up-front cost compared to other deployment methods.
Customers have easier access to the latest versions of the software.
Organisations can focus on business operations rather than monitoring and maintaining enterprise grade software.
The cloud WFO suite supports hybrid integrations of on-premise and cloud-based applications. For example, a customer can easily complement an on-premise NICE IEX Workforce Management solution with cloud-based Interaction Analytics, Performance Management, or any other cloud-based application.
"We are proud to deliver the market's first comprehensive cloud-based WFO suite," said Yochai Rozenblat, President of the NICE Enterprise Group.
"We focus on delivering value to our clients by helping them leverage customer interaction data for improved operations and sales. Cloud-based deployment makes it easier and more cost effective for our clients to implement a complete set of advanced WFO solutions."
Published On: 6th Feb 2013 - Last modified: 22nd Mar 2017
Read more about - Archived Content, NICE
---